Epoch Times Staff Mar 14, 2009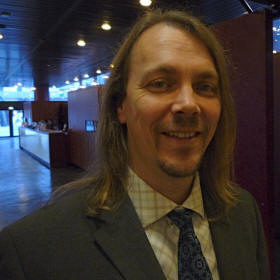 Mr. Irgensen, musician from Oslo, thinks that culture can change China, just as music can heal people. (Hans Bengtsson/The Epoch Times)
OSLO, Norway--The Divine Performing Arts 2009 World Tour appeared for the first time ever in Norway. Presented in the Oslo Konserthus, one of the country's finest music venues, the New York-based dance company gave a packed concert hall a presentation of ancient Chinese culture in classical dance and music.

"It is a great thing," says Mr. Irgens, who is a musician and composer of world music. His concerns for humanitarian issues are reflected in his work. He said that the dances, the choreography, and the costumes were all great.

"It is splendid. I think the theme is interesting. I like the idea of making something that connects to philosophy and religion. I like open-mindedness towards other beliefs, the wonder and philosophies. As an artist and as a person, I am interested in that.
"I think that they [the different programs in the show] are all parts of the same universe. Different layers, but sill the same. I like them all."

Divine Performing Arts has a mission to revive humanity's true cultural heritage. The performers present works based on the true, divinely bestowed culture of mankind, bringing beauty and goodness back to the world.

Mr. Irgens is now interested in promoting his new, almost-completed, album in China.

"I think there is great value in people connecting to and exchanging with each other," he said.

As life in China under the communist regime is restricted, he believes the regime must pass away before people in mainland China can really enjoy a true cultural experience.

"It is an interesting country. But we have to see what happens to this regime first ..."

He thinks that the culture inside of China is easier for the regime to control than those things outside China.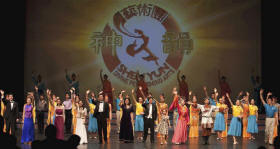 Curtain call at a full house in the Oslo Concert House (Oslo Konsheryus) (Roger Luo/The Epoch Times)
"They can't stop that in the same way. Culture is communication and sharing and will create a change in the long run. We can hope for that.

"I think music is healing on many levels."
Source http://theepochtimes.com/n2/content/view/13684/