The DivineLandMarching Band Warmly Welcomed in Xinshan City of Southern Malaysia(Photos)
January 30, 2009
|
By a practitioner in Singapore
(Clearwisdom.net) To celebrate the Chinese New Year, five large stores and shopping centers in downtown Xinshan City invited the Divine Land Marching Band to perform at the public celebration. The band is made up of of Falun Gong practitioners.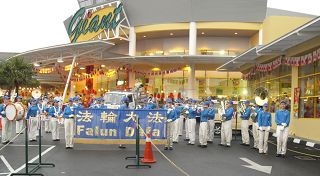 The Divine Land Marching Band was invited to perform in Xinshan City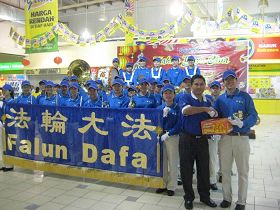 The organizers expressed their appreciation to the band
The Divine Land Marching Band's appearance on the afternoon of January 24th attracted many shoppers and passersby. The surprised spectators seemed very pleased, and many took pictures with members of the band. The band offered five performances from 2 p.m. to 9 p.m., and was greeted with warm applause.
Xinshan City is located on the south border of Malaysia, right next to Singapore. It is a commercial city with a relatively large Chinese population. Many Malaysians here have never heard about Falun Gong before. Seeing the Divine Land Marching Band offered them a great opportunity to find out the facts about Falun Gong.
The band played "Falun Dafa Is Good," "Fa Drum and Fa Trumpets Shake the Ten Directions," "Fa Rectifies the Heaven and Earth," "Deliver the Treasures," "Ode of Joy," and "The Whole World Rejoicing." The magnificent and clear sound of trumpets and the resounding drums were warmly welcomed by the audience.
After the event, the organizers presented the Divine Land Marching Band with a token to commemorate the event and had their pictures taken with members of the band.