Truth-Compassion-Forbearance International Art Exhibition Astounds Malacca, Malaysia (Photos)
January 11, 2009
|
By a practitioner in Malaysia
(Clearwisdom.net) The Truth-Compassion-Forbearance International Art Exhibition was held in Malacca, Malaysia, on January 3 and 4, 2009. Malacca is a famous tourist site in Malaysia. Many people saw the exhibition.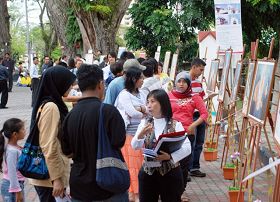 The exhibition attracted tourists from around the world

Tourists at the exhibit

Many tourists saw the exhibit

Tourists learning about the exhibition
The exhibition attracted tourists from around the world, including China, the US, Canada, Germany, Bulgaria, and Singapore.
The two-day exhibition was made up of 20 paintings. The Truth-Compassion-Forbearance International Art Exhibition consists of five sections: "Enlightenment," "The Beauty of Cultivation," "Uncompromising Courage," "Calling for Justice," and "Justice Prevails."
The paintings were all done by artists who practice Falun Gong. The exhibition displays the beauty of the Falun Gong cultivation practice and the uncompromising spirit of the many practitioners who, with merciful compassion, are clarifying the truth during the more-than-nine-year brutal persecution of the practice.
A local Chinese resident, Chang Yi-bao, was appalled at the Chinese Communist Party (CCP)'s horrible and inhumane persecution of the practice. He said that Falun Gong is a righteous practice and encouraged those that support Falun Gong to keep it up.
Mr. Arie, a local resident, said, "The CCP is truly cruel, just like the communist party in Indonesia. I am very disappointed. We should help to stop the persecution of Falun Gong because the practitioners are good people. It is inhuman to persecute them."
A gentleman from a nearby city said, "It is my first time to view these paintings. I am disheartened. I have never seen any government deal with its own people so brutally. I wish that someone could rescue them. I suggest that the exhibition be held everywhere so that more people could learn about the persecution."
Mohammed Firdaus, a resident from Kuala Lumpur, said after seeing the paintings, "These people (CCP) do not qualify to live in this world because they persecute innocent Falun Gong practitioners. I believe that Falun Dafa can allow people to have healthy bodies and peaceful minds."