Malaysia: Divine Land Marching Band Premieres at World Falun Dafa Day Celebration (Photos)
May 15, 2008
|
By a Falun Dafa practitioner in Malaysia
(Clearwisdom.net) May 13, 2008, is the ninth World Falun Dafa Day and the sixteenth anniversary of the introduction of Falun Dafa. Falun Gong practitioners in Malaysia celebrated the special day and Falun Gong founder Master Li's birthday in the Botanical Garden in Penang on May 11. The Malaysian Divine Land Marching Band premiered at the celebration, its Falun Dafa music attracting the attention of many people.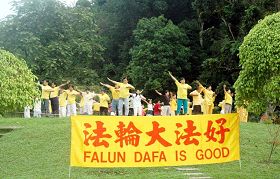 Group exercise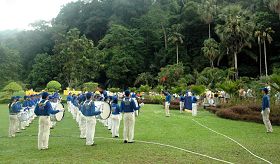 Divine Land Marching Band premiere
Band premiere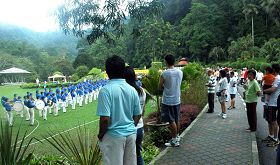 Tourists watch the band.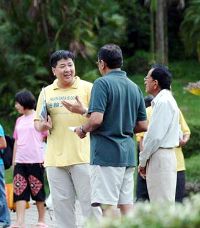 A Falun Gong practitioner clarified the truth about Falun Gong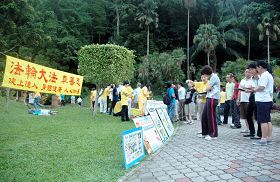 People learn more about Falun Gong
An older gentlemen learned about the persecution of Falun Gong after taking introductory materials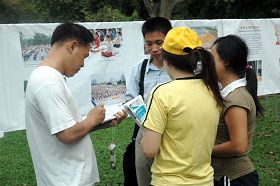 People sign to support the anti-persecution effort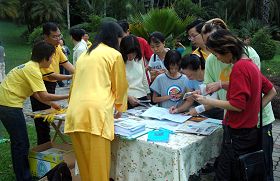 Local resident Ms. Chen Sishi stopped in the middle of her jogging to watch the Divine Land Marching Band. She stressed repeatedly to the reporter, "Falun Gong practitioners are very sincere. They put their hearts into the performance. Falun Gong is great!"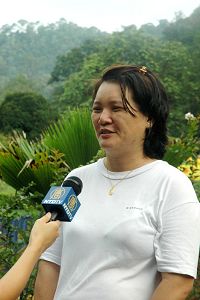 Local resident Ms. Chen Sishi
Practitioners demonstrated the Falun Gong exercises, held a photo exhibit "Journey of Falun Dafa," and collected signatures. Many people showed great interest in learning Falun Gong. They signed in support of the anti-persecution campaign after hearing about the persecution of Falun Gong in China.
Indian Malaysian Krishna said, "I learned it is a cultivation practice. I would like to learn it because Falun Gong is very good at improving health." Albert Kwok, a Chinese Malaysian, also said Falun Gong was great.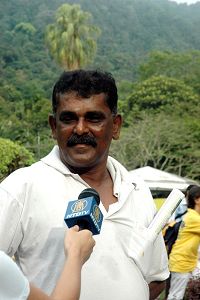 Indian Malaysian Krishnan
Adult and children Falun Gong practitioners sang Falun Dafa songs and took a group picture wishing Master Li Happy Birthday!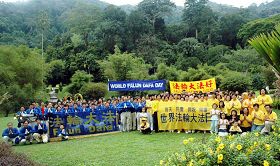 Group picture of Falun Gong practitioners