Malaysian Falun Dafa Association Hosts a Three-Day Fa-Study to Promote Overall Progress (Photos)
October 30, 2008
|
By a Malaysian Falun Dafa practitioner
(Clearwisdom.net) The Falun Dafa Association of Malaysia hosted a three-day Fa-study from October 25 to 27. About 100 practitioners from different areas of Malaysia attended the gathering to study the Fa, practice the exercises, and share about how to do three things well. The practitioners also shared how to coordinate group activities better.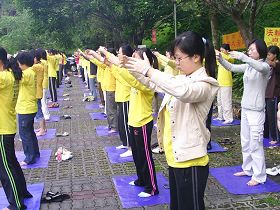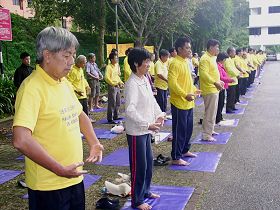 Group practice in the morning during the 2008 Malaysia Falun Dafa Fa-Study

Many practitioners said they benefited a lot from the Fa-study and treasured the opportunity of such a group Fa-study environment. One practitioner who came from Mainland China recently said that he had no chance to attend a large scale Fa-study in China since 1999. So he valued the gathering very much and hopes practitioners overseas will also value such a good environment for cultivation.
One coordinator shared experiences of how to clarify the truth to government officials when the local government sent people to find out more about the activities of the Falun Gong group.
Another practitioner shared the experience of creating an environment for truth-clarification projects when there were tensions at the beginning and how to clarify truth to government and police during the activities.
Practitioners who clarify the truth at a tourist site shared their experiences before the gathering was about to end. Encouraged by other practitioners, the practitioners in that area increased the group study and practice time, coordinated better among practitioners to clarify the truth to Chinese tourists. And practitioners from nearby areas also came to support the activities.
Practitioners from Lumut shared how they coordinated to clarify the truth to local residents, family and friends.
As for the conflicts among practitioners and during projects, the practitioners exchanged their understandings and agreed that one should look inward and open one's mind to face the conflict. One should compassionately share with the related practitioners and not simply avoid the problem. The purpose is to improve the whole environment and coordinate better in the group so as to promote Dafa and clarify the truth better.
The three-day Fa-study completed successfully at noon on October 27. The attendees said they hoped such an event will be held more frequently.