The Chicago Audience Likes Every Part of the Chinese New Year Spectacular (Photos)
January 29, 2008 | By Lin Yunzhi
(Clearwisdom.net) On the afternoon of January 26, 2008, a Chicago audience took in the Chinese New Year Spectacular at the Arie Crown Theater. During the intermission, they excitedly expressed their approval of the performance.
Employees of the Friends of Oak Lawn Public Library were excited about the show

Mr. Hui's whole family watched the show

Mr. Tichy's family attended the show
Office manager Beverly Briggs
Beverly Briggs is an office manager. She toured China six years ago and loves Chinese culture. With a big smile on her face, she told the reporter that she liked each part of the show. She thought that the effect of the show as "perfect." Her favorite part was the dancing. She admired the performers' light and graceful dance movements. As talked to the reporter, she tried to imitate the performers' postures in turning around. She said, "Next year I'll invite my friends and relatives to see the show."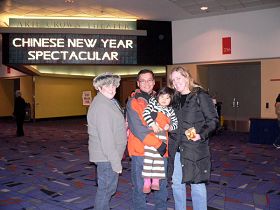 Social worker Steve Carlan brought his whole family to the show
Social worker Steve Carlan brought his family to see the show. During the break, he accompanied his daughter through the hall. Sharing how he felt about the show, Steve said excitedly, "It was unbelievable." Recently, he saw a man wearing a traditional Chinese costume, which attracted his attention. He took a flyer from the man and immediately decided to bring his entire family to the show. He and his family enjoyed all of the performances.

Designer Godfry Cavmona and his three-year-old adopted Chinese daughter, Kael
Invited by her older sister, realtor Tina and designer Godfry Cavmona, and their three-year-old daughter, Kael, who was adopted from China, saw the show. They thought it was an excellent opportunity for their child to learn about traditional Chinese culture. They were dismayed to learn that such a great show is banned in China by the Communist Party.