Clearwisdom.net, Saturday, September 08, 2007
Facts of the Persecution
Media Reports
News and Events Around the World
Open Forum
Bearing Witness to History
Practitioners Exchange Insights and Experiences
People Awaken to the Truth
Clearwisdom Material
Facts of the Persecution
---
The Darkness and Ugliness of Hebei Province Women's Prison
(Clearwisdom.net) Hebei Province Women's Prison is afraid of the public knowing the true situation inside the prison, so it repeatedly concocts things. Every time inspectors come, they lock up the Falun Gong practitioners, who can speak the truth, and other people whom they do not trust, rather than sending them to the workshop to do forced labor, because they fear the prison's brutal acts will be exposed. This prison boasts to the outside world about its humane administration and good living conditions--both outright lies.
For example, the prison claims that inmates work eight hours a day and rest on weekends. The truth is that every morning prisoners head to work at 7:00 a.m., they arrive at the workshop at 7:30 a.m. and immediately start working until noon. They have a half-hour lunch break and then go back to work. Dinner break is also half an hour, with no other rest in between. Prisoners then work until 8:30 p.m., and it is after 9:00 p.m. before they can return to their prison cells. There is also frequent counting and body-searching before they can go back to the cells to rest. The prison says no labor is performed on weekends. In fact there is no rest on weekends. Additionally, almost every month there is a week where prisoners have to work until midnight. This is high intensity slave labor.
Practitioners new to the prison are separated them from other prisoners. The prison made a special group in the No. 1 teaching building to attempt to "transform" these practitioners. If they won't write the so-called four statements (similar to the three statements), the practitioners are not allowed to go outside, not allowed to get water or food by themselves, and not allowed to see other people. In the beginning the prison presents a nice side to deceive you. But then, if you do not conform, the prison reveals its true, evil face. It uses forceful means such as sleep deprivation and fills you with evil lies. A practitioner in her sixties was deprived of sleep for seven days straight. Suffering inhuman torture that she could not bear, she was forced to write the four statements. Later she exposed all of this, told others why she practiced and the torture she had suffered, and wrote letters many times to the head of the prison. Many practitioners who made such mistakes have mentioned these things. Steadfast practitioners were imprisoned inside the teaching buildings.
Recently, Wang Bo and her mother were sent to this prison. During a forced body search, they resisted and were held down by several people during the search. They were then sent to a "transformation" class. It is said the the "transformation" class always shows the video of Wang Bo's so-called "transformation." Wang Bo's arrival has obviously exposed that evil lie.
Besides Falun Gong practitioners, the prison also incarcerates other people unjustly, for example Guo Yumei of the No. 4 Ward. Her family's farmland was usurped by a village official. She and her mother tried to appeal and sue for a long time but could not resolve the matter. In March 2007 Guo Yumei and her mother were tricked into Hebei Province Women's Prison without any legal procedures being followed. Officials lied, saying her mother needed to see certain doctors. Because Guo Yumei thought this was unjust, she did not plead guilty. The authorities immediately sent her to a guarded chamber. She was held there for two months, then was assigned to Ward No. 4. Her mother was assigned to Ward No. 9.
Guo Yumei held a hunger strike to protest and looked for officials to help her, but her case could not be resolved. She could not find a way to meet with the head of the prison, so she had to call for help on the way to the forced labor workshop. As a result she was beaten in front of the other prisoners by the vicious police chief, Li Xiujuan. Li slapped her in the face, cursed, and sent her again to a guarded chamber. The police were afraid of her shouting, so they stuffed her mouth with towels and toilet paper so she couldn't talk. Once when the upper level inspectors came, the police found several people to stuff her mouth and hold her down so she could not move. Ms. Guo turned red and almost suffocated. Every day No. 4 Ward guards sent her to the hospital for force-feeding. Her mother had health issues and was also force-fed in the hospital, her life in grave danger. Basically Guo Yumei's case is a civil matter, not in the realm of criminal law. The police break the law even though they know the law. What crimes they are committing!
Although the prison has been open for less than two years, three (non-practitioners) have already committed suicide by hanging themselves. There have been multiple attempts to escape and also violence.
This Chinese Communist Party (CCP) prison is truly a hell in the human world. A heavy gloom hangs over it, and strange things frequently occur. Female prisoners who dress like males were favored. Often there were women together in pairs, hugging each other, feeding each other during meals, looking as if they were a couple. Not only among prisoners, even the female guards were happy to see those fake males. Yet the same police treat normal people with cold faces and threats, looking like malicious ghosts. In Ward No. 3 a prisoner named Qian Hua is an admitted homosexual. Before she came to prison she considered herself to be a man. Her girlfriend did not know she was a woman after going together with her for three years. After she came to the prison, she quickly got together with a ward chief named Fan. Fan provided a special single room for her and installed a door shade. One time the head of the prison caught them being intimate inside, so Qian was transferred to another ward. Lesbianism has become a special problem in this prison.
---
Brutal Mistreatment Still Continues in Daqing Prison
(Clearwisdom.net) On August, 24, 2007, Deputy Prison Director Wang Jiaren (male), along with the CCP Political Office Director Li Weilong (male), Deputy Director Li Weinan (male), Head of the Punishment Executive Division Yuan Hongjun (male) of Daqing Prison in Heilongjiang Province, the Riot Prevention Team, and the armed guards searched all the prison cells and the detainees. During this process they brutally beat Falun Dafa practitioners and forced them to wear prison uniforms. All the small cells (1) in the prison are full, and the detainees have indicated that Li Weilong is responsible.
According to eyewitnesses, all detainees in the nine prison wards were rounded up on the athletic field. Some prison wards had previously forced practitioners to put on prison uniforms. Some practitioners were stripped down to their underwear. In the so-called "Education Ward," practitioner Mr. Xuan Guoying, who refused to wear a prison uniform, was beaten so badly that his face was deformed and purplish blue, and he could not open his left eye. It is not clear if the rest of his body was bruised as well.
Practitioner Mr. Pu Fanwei from the Fourth Ward was beaten about his temples with a baton by guard Gao Zhonghua (male) from the Riot Prevention Team, and he fell immediately to the ground. Several guards then punched and kicked him. Because practitioner Mr. Wu Chunwei exposed the brutal acts of the Chinese Communist Party (CCP), Yuan Hongjun beat him on the back of his head with a baton and he immediately fell to the ground. He was punched and kicked, which left a big bump the size of an egg behind his ear, and there were bruises on his back and buttocks.
Practitioners Mr. Wang Shusheng, Mr. Zhang Jian, and Mr. Dai Zhidong from the Fifth Ward were stripped of their clothes down to their underwear. They had been searched a few days before and their books, MP3 players, and other personal belongings were all taken away. Mr. Dai Zhidong refused to wear a prison uniform and was beaten so badly by Li Weinan (male) that his eyelids were purplish blue and filled with blood. Mr. Zhang Jian's lower body was paralyzed due to the long period of restricted activity. He could barely stand with the help of two people.
The beating directed by Wang Jiaren (male) on the prison athletic field lasted nearly two hours. In front of all the prisoners and guards, the cleaning of prison cells became a show of the bloody and violent mistreatment of Falun Gong practitioners. Because the prison was undergoing new construction, many construction workers hired from other places witnessed the brutal mistreatment.
After the so-called "strengthening of the prison" began on August 13, 2007, incidents of guards beating prisoners occurred frequently. All practitioners illegally detained in various wards were mistreated to different degrees. On the evening of August 19, 2007, practitioner Mr. Wang Yudong from the First Ward was beaten on the head by the Riot Prevention Team and was locked up in a very small room on an iron chair for refusing to answer role call. Fearing that he might cry out, they stuffs cloth in his mouth. In the First Ward, Mr. Sun Yaomin is still in a small cell.
Note:
(1) Small cell - The detainee is locked in a very small cell individually. The guards handcuff practitioners behind their backs in a fixed position in which the practitioners can neither move nor lie down. The small cell is very damp and no sunshine comes in. An open bucket serves as a toilet in the cell. Only half of a regular meal is served during the daytime. During the night rats run about. The stench in the small cell is so bad that it is difficult to breathe.
---
Ms. Wu Bilin and Mr. Cheng Dehan Arrested by the 610 Office and Detained in Chenjiaji Brainwashing Center in Hubei Province
(Clearwisdom.net) Ms. Wu Bilin, 59, is a practitioner from Wuhan City, Hubei Province. On August 6, 2007, she went to the family housing area of the "288 Plant" in the Huangpi District to clarify the truth. A person who was deceived by the propaganda reported her to the police. Officers from the Huangpi District Police Department arrested her, and she is being illegally detained at the Chenjiaji Brainwashing Center in the Jiang'an District, Wuhan City.
To protest the illegal detention, Ms. Wu held a hunger strike for several days. The temperature was high day after day in Wuhan City and as a result she became extremely weak. Hu Shaobin (male) with the Jiang'an District 610 Office incited evildoers to force-feed her with vinegar and chili water several times a day. They also violently struck her.
The Laodong Street Police Station in Wuhan City was also involved in this persecution. For eight years the harassment and mistreatment of Ms. Wu by the 610 Offices in Wuhan City caused her family great anguish. Her husband could not sleep and her 80-year-old mother developed a cerebral hemorrhage and was hospitalized after learning of her daughter's arrest.
Practitioner Mr. Cheng Dehan, 30, is a staff member of the Vehicle Plant in Jiang'an District, Wuhan City. On June 22, officers from the No. 1 Police Division in Wuhan City arrested him, illegally searched his home, and seized 1,000 yuan. As a result, his parents, wife, and children have lost their main source of income. At present, he has been transferred from the Jiang'an District Detention Center to the Chenjiaji Brainwashing Center.
Jiangan District 610 Office: 86-27-827739771
Chenjiaji Brainwashing Center in the Jiangan District: 86-15907120167 (Cell)
Hu Shaobin, the Jiangan District 610 Office: 86-13871508388 (Cell)


---
Additional Persecution News from China - August 29, 2007 (30 Reports)
(Clearwisdom.net)
Today's report relates persecution incidents that involve 23 cities or counties in 10 provinces. Fifteen practitioners were subjected to maltreatment during detention; 24 practitioners were illegally arrested, and their homes were ransacked.
[Jiaxing City, Zhejiang Province] Falun Gong Practitioner Zhu Yuchun Arrested

[Pingshan County, Hebei Province] Falun Gong Practitioners Li Hongxia, Yan Meiying and Gao Yinshuan Arrested

[Maoming City, Guangdong Province] Practitioner Deng Shaosong Still Being Held

[Anhua County, Hunan Province] Practitioner Chen Xinchu Arrested

[Handan City, Hebei Province] Police Arrest Practitioner Gu Yuying

[Shanhaiguan City, Hebei Province] Practitioner Mr. Wei Danquan Was Taken to the Baoding City Forced Labor Camp on August 20, 2007

[Xianning City, Hubei Province] Practitioners Huang Qiuzhen and Xu Han Arrested

[Jing County, Hebei Province] Practitioners Cui Junfang and Liu Qian Arrested

[Raoyang County, Hebei Province] Police Harass Practitioner He Jiangang's Family

[Zibo City, Shandong Province] Practitioner Han Yue Arrested

[Changle County, Shandong Province] Practitioner Lu Fengzhen Arrested

[Qiqihar City, Heilongjiang Province] Practitioner Xie's Seven-member Family Arrested

[Zhaoyuan City, Shandong Province] Practitioner Lan Juxiang Arrested

[Germu City, Qinghai Province] 610 Office Agents Put Practitioners into a Brainwashing Center

[Chengdu City, Sichuan Province] Practitioner Zhan Min Arrested for the Sixth Time

[Chengdu City, Sichuan Province] Practitioner Zhong Fangqiong and Others Arrested

[Jianyang City, Sichuan Province] Practitioner Hu Xuehui Arrested

[Hengshui City, Hebei Province] An Older Practitioner Arrested

[Jinzhou City, Liaoning Province] Practitioners Ms. Jing Cuizhen and Her Husband, Mr. Sheng Fuji, Are Being Held at the City's No.1 Detention Center

[Jinzhou City, Liaoning Province] Personnel from the Longjiang Police Station Harass Practitioners in Their Homes

[Baoding City, Hebei Province] Practitioners Dazhen and Yuan Guihua Arrested

[Shuangliu County, Sichuan Province] Practitioner Liao Shuyun Arrested

[Baoding City, Hebei Province] Practitioner Liang Lanzhi Arrested

[Shandong Province] Wangcun Forced Labor Camp Agents Prevent Visits from Practitioners' Families

[Shenyang City, Liaoning Province] Dabei Prison Officials Refused to Let Practitioner Zhang Yaqin's Family Visit Her

[Ningjin County, Hebei Province] Practitioner Zhang Yuchen Lives in Exile to Avoid Illegal Arrest

[Tonghua City, Jilin Province] Persecution of Practitioner Yang Fujun

[Yantai City, Shandong Province] Police Arrested Practitioner Ms. Yu Lanying on the Morning of August 24, 2007, When She Clarified the Facts about Falun Gong

[Shanghai] Practitioner Ms. Shang Huiling from Pingdingshan City, Henan Province, Was Arrested on July 8, 2007, and Sentenced to One Year of Forced Labor

[Beijing] The High School Mind and Politics Education Textbook Contains Dafa-Slandering Content
1. [Jiaxing City, Zhejiang Province] Falun Gong Practitioner Zhu Yuchun Arrested
Personnel from the Nanhu Police Department arrested Ms. Zhu Yuchun from Jiaxing City on July 20, 2007. Ms. Zhu is still in detention.
2. [Pingshan County, Hebei Province] Falun Gong Practitioners Li Hongxia, Yan Meiying and Gao Yinshuan Arrested
Personnel from the Pingshan County Chengguan Police Station arrested Ms. Li Hongxia, Ms. Yan Meiying and Mr. Gao Yinshuan from Pingshan County on the night of August 26, 2007. They put the three practitioners in the county's detention center on the afternoon of August 27, 2007.
Wang Yanping, Pingshan County Police Department's Chengguan Police Station: 86-13731116788 (Cell)
Feng Qingfang, Pingshan County Police Department Political Security Section: 86-311-82913739 (Home)
Cui Feng, Pingshan County Police Department chief: 86-311-82911876 (Office)
Wang Genting, Pingshan County 610 Office: 86-311-2914828 (Office), 86-311-2943106 (Home), 86-13171561553 (Cell)
3. [Maoming City, Guangdong Province] Practitioner Deng Shaosong Still Being Held
Mr. Deng Shaosong was sentenced to six years in prison and is still being held at the Maoming City No.1 Detention Center. His father-in-law has submitted two letters of appeal to the city's Intermediate Court.
4. [Anhua County, Hunan Province] Practitioner Chen Xinchu Arrested
Officer Huang Dan from the Dafu Town Police Station arrested Mr. Chen Xinchun on August 16, 2007, when Mr. Chen was clarifying the facts about Falun Gong in Ningjia Village, Dafu Town, Anhua County. His whereabouts are still unknown.
Mr. Chen, 52 years old, is a farmer who started practicing Falun Gong in 1996. He has been arrested for four times since July 20, 1999.
Dafu Police Station: 86-737-7662110
5. [Handan City, Hebei Province] Police Arrest Practitioner Gu Yuying
Ms. Gu Yuying escaped from the Handan City No.2 Detention Center on the night of August 26, 2007. Police have issued a "wanted" announcement to arrest her.
Zhao Shefeng, Handan City No.2 Detention Center chief: 86-13932015108 (Cell)
Report line: 86-13315082288
6. [Shanhaiguan City, Hebei Province] Practitioner Mr. Wei Danquan Was Taken to the Baoding City Forced Labor Camp on August 20, 2007
7. [Xianning City, Hubei Province] Practitioners Huang Qiuzhen and Xu Han Arrested
A group of plainclothes policemen arrested Ms. Huang Qiuzhen and Mr. Xu Han, employees of the Xianning City Cigarette Company, on Wenquan Street the night of August 22, 2007.
Seven officers from the Wenquan Police Station broke into Mr. Xu's home and ransacked the place at 3:00 a.m. on August 23, 2007. They confiscated all Dafa books and many personal belongings. In the meantime, four other policemen went to the Wenquan Construction Hall and asked where Ms. Huang lived. This gang went to Ms. Huang's workplace and ordered her colleague to lead them to her home, but the colleague refused.
The two practitioners' whereabouts are unknown.
8. [Jing County, Hebei Province] Practitioners Cui Junfang and Liu Qian Arrested
Police from Hengshui City and Jing County arrested Ms. Cui Junfang and Ms. Liu Qian from Jing County on August 23, 2007. They have been held at the county's detention center for six days. Ms. Cui has been suffering from frequent vomiting. The guards have denied their families' visits.
Ms. Cui's child must attend school. In addition, no one can take care of their several acres of farmland. Ms. Cui's parents, in their 60s, worry about her a great deal.
Ms. Liu's child must also go to school, and her 80-year-old mother-in-law is in distress because of her arrest.
Fang Chunsheng, Jing County National Security Division: 86-318-4224015
Li Guisheng, Jing County National Security Division chief: 86-13383686369 (Cell)
Zuo Tiehan, Hengshui City National Security Division deputy chief: 86-13383388305 (Cell)
9. [Raoyang County, Hebei Province] Police Harass Practitioner He Jiangang's Family
Official Zhang Zhibing led about 20 officers from the Raoyang County Police Department and arrived at Mr. He Jiangang's home in Jinglin Village at noon on August 24, 2007. They photographed the home and claimed they would find Ms. He, who now lives in exile to avoid arrest.
Zhang Zhibing: 86-13703185529, 13833850828
10. [Zibo City, Shandong Province] Practitioner Han Yue Arrested
Zhoucun District 610 Office chief Yao Junrong arrested Ms. Han Yue from the Zhoucun District, Zibo City, on August 15, 2007. They confiscated her computer and some other items the next day.
Yao Junrong: 86-533-6406998 (Home), 86-533-6815722, 8876333 (Office)
11. [Changle County, Shandong Province] Practitioner Lu Fengzhen Arrested
Ms. Lu Fengzhen, a doctor in the Changle County People's Hospital, was arrested on August 12, 2007. Her whereabouts are unknown. Police recently broke into her home and ransacked the place.
12. [Qiqihar City, Heilongjiang Province] Practitioner Xie's Seven-member Family Arrested
Personnel from the Xingfu Police Station in Fularji District, Qiqihar City, deceived practitioner Mr. Xie and ordered him to bail out his two brothers; his daughter, Ms. Xie Bing, and her husband; his son, Mr. Xie Qiang; and his wife on August 25, 2007. Mr. Xie took 10,000 yuan with him to the police station, but he has not yet returned.
13. [Zhaoyuan City, Shandong Province] Practitioner Lan Juxiang Arrested
Six officers from the Zhaoyuan City 610 Office in Shandong Province went to Ms. Guo Shanlan's home in Oujiakuang Village on August 24, 2007, but Ms. Guo was not home. They then went to practitioner Ms. Lan Juxiang's home and arrested her.
Lan Wanmin, Oujiakuang Village Party Secretary: 86-535-8360001 (Office), 86-535-8368888 (Home)
Lan Shexiang, deputy secretary: 86-535-8360002 (Office), 86-535-8360198 (Home)
14. [Germu City, Qinghai Province] 610 Office Agents Put Practitioners into a Brainwashing Center
Germu City 610 Office deputy chief Wang Jianping and others arrested practitioner Ms. Kang Jinying, an official of the city's Qingguang Hotel Finance Department, at her office on August 21, 2007. Ms. Kang's colleague, practitioner Ms. Chen Jiping, was arrested at her home that day. They also arrested practitioner Ms. Tan Xiaoju on her way to work at the Yanhu Corporation. The three practitioners are presently being held at the brainwashing center.
Wang Jianping, National Security Division deputy chief: 86-979-8440555 (Office), 86-979-8411928 (Home), 86-13897057088 (Cell)
15. [Chengdu City, Sichuan Province] Practitioner Zhan Min Arrested for the Sixth Time
Ms. Zhan Min, 44 years old, is a teacher in the Xinjin Teacher Advancement School. She was reported to police, and officers from the Xinjin District arrested her on the night of August 25, 2007. This is Ms. Zhan's sixth arrest since 1999.
16. [Chengdu City, Sichuan Province] Practitioner Zhong Fangqiong and Others Arrested
Ms. Zhong Fangqiong from Chengdu City, arrested on August 1, 2007, is presently being held at the city's Jinhua Brainwashing Center. Practitioner Mr. Cheng Tao's whereabouts are unknown. It is uncertain whether practitioners Mr. Liu Jia, Mr. Liu Bangcheng, Mr. Jiang Zonglin, and Mr. Zhu Renbin are being held at the city's detention center or at the brainwashing center. The eight practitioners arrested in the Huangtianba area have been released.
17. [Jianyang City, Sichuan Province] Practitioner Hu Xuehui Arrested
Ms. Hu Xuehui, a retired teacher from the Jianyang City Yunlong Primary School, went to the city's 610 Office to talk with official Tang Xianguo on August 16, 2007, but was taken to the Ziyang City Er'ehu Brainwashing Center.
According to reliable sources, Jianyang City 610 Office agents had planned to take Ms. Hu to the Ziyang City Brainwashing Center on July 4, 2007. They failed because Ms. Hu was not at home when they came for her. Later on they frequently went to the homes of Ms. Hu, her relative; her daughter; and her son and harassed them. Ms. Hu went to the Jianyang City's 610 Office to clarify the facts about Falun Gong and requested they not harass her family members. She told 610 Office chief Tang Xianguo about her benefits from Falun Gong practice. Tang Xianguo did not listen, but put Ms. Hu into the Er'ehu Brainwashing Center.
18. [Hengshui City, Hebei Province] An Older Practitioner Arrested
A patrolling policeman arrested practitioner Mr. Chen Ligen's wife from Liuzhong Village, Dengzhuang Township, in the Taocheng District, Hengshui City, near the township's main street at noon on August 20, 2007. Police took her to the city's detention center.
19. [Jinzhou City, Liaoning Province] Practitioners Ms. Jing Cuizhen and Her Husband, Mr. Sheng Fuji, Are Being Held at the City's No.1 Detention Center
20. [Jinzhou City, Liaoning Province] Personnel from the Longjiang Police Station Harass Practitioners in Their Homes
21. [Baoding City, Hebei Province] Practitioners Dazhen and Yuan Guihua Arrested
Personnel from the Fuping County 610 Office in Baoding City and National Security Division chief Zhai Xiangyu have tried to arrest practitioners since July 31, 2007. These police officers arrested practitioner Ms. Dazhen from Chengnanzhuang Village on the night of August 26, 2007. Ms. Dazhen's daughter attends school. There is no one to take care of the pigs and chickens.
Police also arrested practitioner Ms. Yuan Guihua and confiscated 3,000 yuan from her home.
22. [Shuangliu County, Sichuan Province] Practitioner Liao Shuyun Arrested
Police arrested Ms. Liao Shuyun, a retired employee of the Shuangliu County Wenxingchuan Cotton Factory, at noon on August 24, 2007. The arrest happened when Ms. Liao distributed Falun Gong truth-clarification materials. They ransacked her home the next day.
Shuangliu County Police Department: 86-28-85822100
Shuangliu County Wenxing Police Station: 86-28-85870382
Ren Qingguo, Shuangliu County Wenxingchuan Cotton Factory's Security Section chief: 86-13688332712
23. [Baoding City, Hebei Province] Practitioner Liang Lanzhi Arrested
Three policemen arrested Ms. Liang Lanzhi from Baoding City on August 24, 2007. Ms. Liang's whereabouts are unknown. Street committee officers had harassed her at her home at 4:00 p.m. on August 20, 2007, prior to the arrest.
24. [Shandong Province] Wangcun Forced Labor Camp Agents Prevent Visits from Practitioners' Families
Wangcun Forced Labor Camp agents suddenly ordered every practitioner's spouse to bring their marriage certificate; otherwise they could not visit the practitioners. Since they were not notified beforehand, many spouses could not visit with the practitioners though they had traveled several hundred miles.
25. [Shenyang City, Liaoning Province] Dabei Prison Officials Refused to Let Practitioner Zhang Yaqin's Family Visit Her
Haicheng City police arrested Ms. Zhang Yaqin and sentenced her to four years in prison. She is presently being held in Dabei Prison's No.9 Ward. Police refused to let her family visit her.
26. [Ningjin County, Hebei Province] Practitioner Zhang Yuchen Lives in Exile to Avoid Illegal Arrest
Ningjin County Police Department's National Security Section chief Shen Jianzhong and the 610 Office head Zhang Donghai led some officers from the Beihezhuang Police Station. They arrested Ms. Zhang Yuchen from Suqiu Village at 12:00 a.m. on July 31, 2007. They interrogated her and then took her to the county's detention center, followed by incarceration at the Xingtai City Brainwashing Center in the city's Law Education Center. She was recently released and now lives in exile.
27. [Tonghua City, Jilin Province] Persecution of Practitioner Yang Fujun
Personnel from the Tonghua City Jiangdong Police Station ransacked Mr. Yang Fujun's home in 2004. They arrested him at his workplace several days later. Five policemen held him to the ground and handcuffed him. They carried him into a police vehicle and took him to the Changchun City Forced Labor Camp.
28. [Yantai City, Shandong Province] Police Arrested Practitioner Ms. Yu Lanying on the Morning of August 24, 2007, When She Clarified the Facts about Falun Gong
29. [Shanghai] Practitioner Ms. Shang Huiling from Pingdingshan City, Henan Province, Was Arrested on July 8, 2007, and Sentenced to One Year of Forced Labor
Shanghai Baoshan Detention Center: 86-21-66860902, 66860901, 66860219
Baoshan District National Security Division chief: 86-13816690423, 13761207711
30. [Beijing] The High School Mind and Politics Education Textbook Contains Dafa-Slandering Content
Words slandering Dafa are found in the 2007 Tenth Grade Mind and Politics Education textbook on page 81. The book is published by the People's Education Press.
Beijing People's Education Press: 86-10-62367356, 58572393
---
102 People Declare that their Words and Deeds Under Forced Brainwashing are Null and Void
(Clearwisdom.net) A "solemn declaration" is a person's public statement declaring to the world that whatever he or she has done or said under duress or deception that was against Falun Dafa is null and void. Most of these statements have come from Falun Dafa practitioners in China who wished to express regret that, in the face of physical torture and brainwashing, they had signed documents renouncing Dafa and guaranteeing not to practice again. Also, as more and more people in China learn the truth about how they have been deceived and lied to by the Jiang regime, many non-practitioners are also submitting "solemn declarations."
Here are some examples of the Solemn Declarations:
Please click here for more Solemn Declarations
---
Media Reports
---
Frederick News-Post (Maryland, US): As China Prepares for Next Year's Olympics, Local Practitioners Concerned over Crackdown (Excerpt)
(Clearwisdom.net) Tibetans, Catholic clergy, Uyghur Muslims, dispossessed farmers, foreign human rights and environmental groups, as well peaceful practitioners of Falun Gong... in the Communist Party's eyes, are all political threats to next year's Olympics. According to recent reports, Chinese officials compiled a list of 43 "undesirable" groups it plans to ban from the Games.

For Li Huang of Middletown and other Frederick and Montgomery County practitioners of Falun Gong (or Falun Dafa, as it's also called), the Beijing Olympics are a mixed blessing. Many Chinese immigrants still have friends, family or co-workers in China who practice Falun Gong. There's fear that they and other practitioners face even greater threats of arrest and persecution as part of their ongoing human rights struggle.

"My mother, who practices Falun Dafa, was detained three times," said Larry Liu of Gaithersburg, a visiting professor at American University awaiting his green card. "Thankfully, she's safe and she is with me now. She's 67 years old and a retired electrical engineer. She wasn't a threat to anybody."

"If they (the Chinese government) knew I practiced, they would not allow me back to visit," Li Huang said. She learned Falun Gong in the United States in 1997, four years after immigrating here. She said families and coworkers of Falun Dafa practitioners are often detained and penalized in China, even if they do not participate in the popular spiritual movement themselves, as a form of intimidation.

"Personally, I think the Olympic Games are good because they make whole nations unite internationally through sports," Li said. "But I feel like these Olympic Games are in the wrong hands. I think they are similar to the Games just before World War II in Germany. I think China will try to show off its good side and hide everything else."

Ancient exercise, spiritual principles

Falun Gong, practitioners are quick to point out, is neither a cult, as the Chinese Communist leaders claim, nor a religion. Everything is offered free.

The principles of Falun Dafa are explained in the book Zhuan Falun, and in the beginner's text, Falun Gong, both written by Falun Dafa's founder, Li Hongzhi. They can be downloaded free from the Internet. Classes, like the ones Li Huang taught at the William Talley Recreation Center in 2003, are free. Essential to the practice are five gentle exercises, including a seated meditation.

Catherine Huang, a Frederick mother of three, began practicing in Baltimore on weekends with her husband at The Johns Hopkins University Homewood campus 11 years ago. Now she practices at home.

"My husband practices, too," Huang said. "And my son. He's 7. We used to bring him in a cradle to Johns Hopkins and he'd watch us. He loved the music. The exercises are simple, he was able to start doing them when he was three."

For Catherine Huang, who also has young twin girls; Li Haung; Liu; and other practitioners like Frederick computer programmer Karen Hong, the attraction of Falun Gong is both its simplicity and rewards.

"Like many people I was looking for something healthy that would help me feel good physically," said Hong. "Many people in China look to qigong, Tai Chi or martial arts for exercise."

The difference, she said, was the combination of Taoist, Buddhist and Confucianism in the texts that added a spiritual component, helping her develop the core principles of "Truthful, Compassion and Tolerance." Regular practice focuses on the continual spiritual reading of the texts. "You might read the same thing a week or month later, but it will be with a new perspective and you'll see the same words in a different light."

The exercises enable the body to release tension and stress.

"You relax and regain your body's energy," Hong said. "You feel refreshed."

Introductory classes and group practices are ongoing throughout Montgomery County and the D.C. metro area, including weekends on the Mall, in Columbia, Silver Spring, and during the school year on Friday nights at Richard Montgomery High School in Rockville.

In mid-July, the annual, week long Washington D.C. Falun Dafa Experience Sharing Conference attracted more than 4,000 people from around the world, according to organizers. The event included films, discussions, group practice, reading, meditation and a rally in front of the Chinese Embassy on Connecticut Avenue.

"I'll tell you one story I thought was funny," said Lui Huang, who graduated from the Harbin Institute in Beijing and later earned a master's degree from Hood College. She nonetheless described herself as a very low-energy person before she began Falun Dafa a decade ago. "I was always tired," she said. "Then I had a colleague who I had worked with for four years and when he was leaving, he remarked that he had never seen me tired the whole time we worked together and that surprised me.

"Then I laughed," said Huang. "I remembered, he hadn't known me before I started practicing."

Chinese crackdown in 1999

There is hope increased media scrutiny will bring international demand for Chinese human rights changes. However, Huang, Liu and others interviewed do not see the Chinese Communist Party backing away from its persecution of Falun Gong's practitioners soon.

On April 25, 1999, 10,000 Falun Gong practitioners gathered outside the Chinese leadership compound, Zhongnanhai, in Beijing. [Correction: the practitioners gathered at the Appeals Office, which is near the government compound, as they were instructed to do by the authorities in Tianjin-ed.] The peaceful assembly [was] prompted by reports of violence and harassment previously inflicted upon Falun Dafa practitioners by Chinese police in the city of Tianjin, as well as an unjustified ban on publishing Falun Dafa materials, according to falundafa.org.

[...]

Shortly thereafter, on July 22, 1999, Falun Gong was officially banned. Later, China's parliament, the National People's Congress, adopted a legislative decision banning all "'heretical organizations" in October 1999. According to Amnesty International, a New Year's editorial on Janiary 1, 2000, in the official People's Daily newspaper, Chinese officials listed the "serious handling" of the "heretical organization Falun Gong" as one of the government's major achievements of 1999. They claimed, and continue to claim, that the Falun Gong represents a serious "threat to social and political stability."

"Since the ban, the Chinese authorities, at national and provincial levels, have carried out a severe crackdown on Falun Gong practitioners and members of other organizations deemed to be 'heretical organizations,'" Amnesty International said. "Tens of thousands of Falun Gong practitioners have been arbitrarily detained by police, some of them repeatedly for short periods, and put under pressure to renounce their beliefs," a 2000 A.I. report stated. "Many of them are reported to have been tortured or ill-treated in detention. Some practitioners have been detained in psychiatric hospitals. Those who have spoken out publicly about the persecution of practitioners since the ban have suffered harsh reprisals."

Also in 2000, as the human rights crackdown received international attention, places like Washington, D.C.; Montgomery County; Hagerstown; and Frederick proclaimed ceremonial Falun Dafa Weeks in support of practitioners here and abroad. Unfortunately, little has apparently changed in China.

"I don't know if hundreds of thousands (Falun Gong practitioners) have been arrested since 1999, but certainly tens of thousands," said Mickey Spiegel, a China researcher with Human Rights Watch, which, along with the Foreign Correspondents Club of China and Reporters Without Borders. issued a recent report saying the country has not stuck to pledges on media access and human rights it made to secure its Olympic bid. "It has been ferocious," Spiegel said. "Quite a lot of people got sentenced to 7-14 year prison sentences. Others they've sent to re-education camps for up to three years. It's absolutely real."

Also, "absolutely real," Spiegel said, is the pressure Chinese trade officials put on cities, as well as small towns, to prevent further "Falun Dafa Weeks."

"The Olympics present an opportunity in a different way because the whole world is watching," said Spiegel. She noted that a lot of issues that people don't know about that should become front and center with international media there, adding that sportswriters won't have to look too hard to address important topics.

"NBC announced they are covering 3,600 hours of events," Spiegel said. "I don't expect them to ignore these issues completely."

"People may think, 'It's not my problem, I'm OK, I live in Maryland, or 'I'm not Chinese,'" Karen Wong said. "But it should be everyone's concern. The Chinese government does a lot of trade with the U.S. and Maryland and you can't trust these relationships if the government does not value morality. Look at their problems with food contamination, with labor, with the environment.

"Eventually, these things will impact U.S. citizens, too."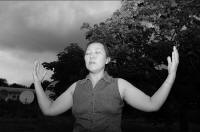 Staff photo by Rebecca Davis Li Huang of Middletown practices Falun Dafa in her backyard. Huang is one of a number of Falun Dafa, also called Falun Gong, practitioners in the Frederick County area who are becoming increasingly concerned about the recent suppression of the practice in China leading up to next year's Olympic Games.
http://www.thenewspost.com/Repository/ml.asp?Ref=Rk5QLzIwMDcvMDgvMjUjQXIwMTkwMA==&Mode=HTML&Locale=english-skin-custom
---
News and Events Around the World
---
Canberra, Australia: Forums on China's Laws and Human Rights Issues Focus on CCP Atrocities (Photos)
(Clearwisdom.net) On September 4, 2007, two forums on the subject of "China's Law and Human Rights" were held at Australian National University and the Australian Capital Territory. The main speakers of the forums were Mr. David Kilgour, former Secretary of State (Asia-Pacific) for Canada, and Mr. David Matas, a renowned human rights lawyer. They made speeches on China's human rights and introduced their report on the Chinese Communist Party's (CCP) organ harvesting from living Falun Gong practitioners.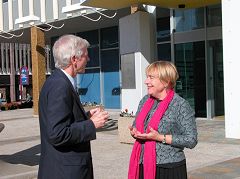 Mr. Kilgour talked with Dr. Deb Foskey, a member of the Legislative Assembly
David Matas pointed out that he and Mr. Kilgour conducted investigations into allegations of the CCP's organ harvesting of incarcerated Falun Gong practitioners. They measured the evidence on the basis of 33 proofs and disproofs. All evidence pointed to the same conclusion: live organ harvesting exists in China and continues today. Since the release of their report in July last year, the CCP has not issued any concrete rebuttal, even though it has powerful state mechanisms and extensive resources. Such a response indicates that the investigation report is reliable.
Mr. Kilgour also briefly talked about the CCP's atrocities of live organ harvesting. He mentioned that, based on reliable information from an Australian doctor, the market for Australians going to China for organ transplants had collapsed after the exposure of the CCP's live organ harvesting. It indicated that China's previous organ harvesting was problematic.
The two forums were attended by government officials, university faculty, and students, as well as members of the public who have been paying attention to China's laws and human rights. The forum at Australian National University was hosted by Professor Kim Rubenstein, Director of the Center for International and Public Law, and held in a conference hall of the College of Law library. The hall was filled with forum participants. Some attendees stood behind the last row of seats and at the doors. The forum in the Australian Capital Territory was hosted by Dr. Deb Foskey, a member of the Legislative Assembly
Several news media in Canberra, including TV9, 2CA, 2CC, and Qbn FM radio broadcasting stations, covered the event in their reports.
---
A Chinese Student in Ireland: "The Number of Chinese People Quitting the CCP Should Be 70 Million"
(Clearwisdom.net) On September 1, 2007, the Irish Quitting the CCP (Chinese Communist Party) Service Center held a rally in Chinatown in Dublin to support the 25 million Chinese people who have denounced the CCP and its affiliated organizations. They played songs about quitting the CCP as well as traditional Chinese music, which attracted many people.
Volunteers from the Service Center told the people in Chinatown about the evil nature of the CCP and that with 30 to 40 thousand people denouncing the CCP and its affiliated organizations every day, and more than 25 million Chinese joining in the overwhelming trend to quit the CCP, more and more people would come to realize the nature of the CCP and then withdraw from it to secure their lives.
Last week, a middle-aged Chinese resident of Ireland received a copy of informational literature from the Service Center. He agreed to quit the Party without any hesitation after volunteers answered his questions. He said he would tell his family in China about the worldwide trend to quit the CCP so that they could realize the Party's evil nature and withdraw from its organizations. This time he told volunteers the names of five of his relatives who wanted to denounce the CCP because he wanted to help them welcome a bright future.
After a young couple learned the truth, they gratefully accepted the pseudonyms made up by volunteers to withdraw from the Party's organizations. During the event, a Chinese student in Ireland said that all the students from his class had denounced the CCP and its organizations and they were not members any more. His friend said, "25 million is not enough, it should be 70 million." More and more Chinese have now realized the Party's evil nature and want to break free of its chains. The end of the CCP is expected soon.
The volunteers said, "We should let Chinese people know just how evil the CCP is and help more of them break away from its control. When all the Chinese denounce the CCP, the Party will collapse in no time." Most of the Chinese people in Ireland are young. Many are students and their minds were deeply poisoned by the Communist Party culture. When the volunteers placed themselves in those students' positions and helped them break away from the control of the CCP, the students could feel their compassion, and this helped them make their announcements.
---
Philadelphia Falun Gong Practitioners Participate in the 18th Annual Neighborhood to Neighborhood Street Festival and Parade
(Clearwisdom.net) On Saturday afternoon, September 1, 2007, the 18th annual Neighborhood to Neighborhood Street Festival and Parade was held in west Philadelphia. The event was initiated by Pennsylvania State Senator Anthony H. Williams. As in the past few years, Falun Gong practitioners from the greater Philadelphia area were invited to participate in the parade. They performed dances and demonstrated the Falun Gong exercises.
To focus on the culture of local constituents, Senator Williams holds the event in west Philadelphia every year. More people participated in the event this year than in previous years. Several thousand local residents attended.
The district is populated mainly by African Americans, and the ratio of Asian Americans is relatively small. The parade procession consisted of over 70 groups, featuring primarily African culture, including lively dancing and processions. In such a bustling atmosphere, the Falun Gong procession attracted attention for its grace and peace.
This was the fifth time that practitioners have participated in the event. Senator Williams saw practitioners' exercise demonstration at a community event five years ago and was very interested. Since then, Falun Gong practitioners have been invited to participate in the festival every year to increase the cultural diversity of the community.
Besides the exercise demonstration, young female practitioners wearing fairy costumes performed a lotus dance.
After watching the Falun Gong practitioners' performance one woman described it as, "Wonderful and unique." Another spectator commented that the procession was peaceful and had a unique character.
When practitioners passed the podium, the parade host warmly introduced them to the audience, saying, "Falun Gong is a gift from China to the world. Falun Gong has five sets of gentle exercises, and its health benefits are very powerful. Falun Gong is based on 'Truth-Compassion-Tolerance.' It has spread to over 80 countries. Unfortunately Falun Gong is persecuted in China. Falun Gong practitioners' processions have won awards in previous parades in Philadelphia and Harrisburg. Today these Falun Gong practitioners present their exercises and Chinese traditional dances to everyone. They hope that Chinese traditional culture will enrich your life and that everyone will have a happy life!"
As messengers of culture and human rights, Falun Gong practitioners made it possible for local residents to experience the grace of Eastern culture and heed the urgent call for an end to Chinese Communist Party's persecution of Falun Gong.
---
Open Forum
---
After Continued Persecution of his Family and Himself, Mr. Gao Zhisheng Solemnly Declares He Does Not Acknowledge Government-Forced "Confession"
(Clearwisdom.net) Editor's note: Mr. Gao Zhisheng is a prominent human rights attorney in China, who was openly critical of the government, and represented Falun Gong practitioners and other human rights cases in China. As a result the Chinese Communist regime has intensely persecuted Mr. Gao and his family over the past year.
At around noon on August 15, 2006, I was at my older sister's home in Shandong Province when 30 Chinese Communist Party (CCP) officials violently arrested me after breaking through the door. At the same time, in Beijing, more than 40 villains stormed into my home without identifying themselves. They conducted a very messy search that lasted several hours, then took away almost all of our family possessions and left only 300 yuan in cash. They did all of this without any legal procedures and without speaking a single word. They conducted body searches on my wife and two children and put my family under an indefinite and illegal house arrest.
Eleven individuals then invaded and occupied my house for eleven days. They had the TV on around the clock and used our kitchen and bathroom. They took turns, always keeping between seven and eleven people in our living room. They played poker, watched TV, ate sunflower seeds, and shouted loudly. They exemplified the lowest rung of human morality, even assigning two people to stand at the bedroom door of my two-year-old son, Gao Tianyu. My wife and children were not allowed to turn off the light when they slept, nor close the doors. They were not allowed to close the door even when they used the bathroom. They closely monitored my wife and children's every move.
Eleven days later, these villains moved to the hallway and downstairs. They still closely watched my wife and children.
During the following four months, four big men always followed my wife everywhere she went. Four to six people were assigned to closely follow my daughter to her school and my son to his nursery school. These thugs stayed by their classroom doors. My wife was even brutally beaten in public once. She endured countless episodes of being cursed at and pushed. My daughter also was beaten and rudely insulted. My three nephews, who were working in Beijing, were detained for 21 days.
That same day (August 15, 2006), in my hometown village located in Shaanxi Province, according to a Public Safety Ministry plan, the Shaanxi Province Police Department lead more than 40 local scoundrels to surround my family. They mistreated my extended family for four months. Also on August 15, 2006, in Urumqi City, Xinjiang Uighur Autonomous Region, my parents-in-law and their daughter began noticing that several dozen villains were following them and blocking their way. Local police told my parents-in-law that they were not allowed to leave home and forcibly took away their personal IDs. My mother-in-law, who is in her sixties, escaped in the middle of the night and rushed to Beijing. After two whole days of traveling, she was prevented from entering our home by those villains who were already there. She had to sit outside of my house for the entire night. She finally met with her daughter when waiting along the path that my wife normally took to go vegetable shopping. Mother and daughter cried bitterly as they embraced each other. The villains chased them home and checked their identities repeatedly. Four to six thugs followed my mother-in-law everywhere during her visit in Beijing.
In Shandong Province, my nephew was detained on August 14, 2006, and held until his father (my brother-in-law) died. Police even tried to prevent my nephew from attending his father's funeral, claiming that the Public Safety Ministry had ordered this heinous restriction.
I began an unlimited hunger strike when I was arrested. I had to give up the strike after 36 hours, because they told me that they had stopped allowing my wife and children food and water due to my strike. They cruelly tortured me physically and mentally, but I did not cooperate with them. They then threatened to deprive my wife and my entire family of their livelihood to force me to give in. They said, "We are not asking too much. First, admit you are guilty; second, stop your involvement in human rights activities." They called me "815" (for August 15), saying, "815, you are very special. We have to break the normal rules and use any means that are effective without hesitation." "815, we have devised many ways to deal with you, including bringing your older brother here, forcing him to kneel in front of you until you have lowered your head. We will use all possible means and take as long as we need." Facing such inhuman tortures to my family members, I was forced to "agree" to admit that I was guilty, and "agree" to write a declaration that I would stop human rights activities. Finally, the police compiled--and I copied--the "regret letter" people saw later.
I hereby solemnly declare: 1. I completely do not acknowledge the shameful crime that the government forced me to admit to with inhuman and violent torture. 2. I do not acknowledge any of the words nor their meanings in the "regret letter." Although both sides were very clear at the beginning that it was fake, I still need to declare this openly now. 3. On December 13, 2005, I submitted a written withdrawal from the CCP. That was my true intent, and I reinstate it here. 4. I stand by the ideas and facts in my three open letters and all written documents I wrote before August 15, 2006. 5. I will forever be against tyranny and any form of suppressing people's thoughts. I am forever an enemy of a dictatorship that is anti-humanity.
Signed,
Gao Zhisheng
April 20, 2007
---
Bearing Witness to History
---
Recollecting the Days When Master Li Taught the Fa in Yanji City
(Clearwisdom.net) On August 20, 1994, I attended Master Li's Falun Dafa lecture classes in Yanji City Stadium along with nearly four thousand others. It was a great honor, and I feel proud that I could see and hear Master in person during this Dharma-ending period. August 20, 2007 is the thirteenth anniversary of our great compassionate Master teaching the Fa in Yanji, and it is also Falun Dafa Day for practitioners in Yanji City. I would like to share the following memories with all practitioners.
1. Righteous Fa Spread Far and Wide, Evil Demons Came to Interfere
"In the muddy human world, pearls and fish eyes are jumbled together. A Tathagata must descend to the world quietly. When he teaches the Fa, evil practices are bound to interfere. The Dao and the demonic ways are taught at the same time and in the same world. ("Enlightenment" from Essentials for Further Advancement)
When Master came to teach the Fa in Yanji, some other so-called qigong masters who were famous at the time also came to hold classes and public lectures in Yanji Stadium, Yanji University Club and Yanji Workers' Club, etc., and stopped many people from obtaining Dafa. On the first day of the Fa lectures, Master looked quite dignified when he mentioned that some people came with bad intentions and even wanted to compete with Master on techniques. This reminded me of someone who came to ask me to help cure diseases a few days prior to Master's lectures (I used to teach some qigong and helped cure diseases before I obtained Dafa). When I went to the patient's home, 6-7 others had already come to "send their energy." After a while, the patient didn't feel any better. The host invited us to have dinner, and during the dinner some people asked a 50-year-old man that seemed to have come from the southern area what he was doing (these people showed great respect to this man). He said that he had followed Master Li from the south to the northeast of China, and that his purpose was to compete with Master Li on techniques. His expression was extremely arrogant. This man introduced himself as a Taoist who had cultivated for several decades.
On Sunday, August 21, there were two classes. At around 12:40 p.m., a thunderstorm with heavy wind and rain arose suddenly. Many cars could not move. Some trees were hit by thunder, and others were uprooted. After the rain stopped, a rainbow appeared in the sky. On my way to the stadium, I saw the trees on Juzi Street West that were splintered by thunder had red core in the trunk and I was very surprised. That afternoon, so-called qigong master Zhang held public lectures at the Yanji University Club. After a few days, I heard Master Li talk about fake qigong and animal possession, and I realized that Master had cleaned up the other dimensions of Yanji City. Over a decade later when I look back, I can feel the difficulty that Master endured while teaching the Fa, some of which we knew and some we didn't.
2. Collect the Lowest Fee and Give the Most
The tuition fee that Master Li charged was the lowest of all the lectures offered by qigong schools in China. The fee was only 43 yuan for ten lectures, and veteran practitioners only paid half that amount. Other qigong masters would usually charge 80-200 yuan for a ten day lecture, and some were even higher.
"Some people teach it just by talking briefly about the theories of their practice methods. Next, they connect their messages with you and teach a set of exercises, and that is all." (Zhuan Falun)
Master gave us a lot. I remember when a local coordinator said that the words "Falun Cultivation Great Way" were extremely precious and that Master had given the book Zhuan Falun to us all as a ladder to heaven. As practitioners, we all know how precious Dafa is, and that its value cannot be measured in monetary terms. When the persecution began in July 1999, one of the false charges was that Master collected money. Many people know, as do the public officials who created the false propaganda, that Master Li donated all income he received from the second public lectures during the 1993 Oriental Health Expo to the Chinese Volunteer Fund. The Public Security Ministry gave Master Li a certificate of appreciation. Yanbian residents all know that Master donated all of the seven thousand yuan that he earned from the lectures in Yanji City to the Red Cross of Yanbian Province. Local newspapers, radio stations and TV stations all reported this. The evil authorities told sheer lies to deceive the public.
3. Teaching the Fa Without Public Performances
At the time, all other Qigong schools gave public performances to attract people to learn their practice.
Master said,
"I make it clear about the purpose for me to hold public lectures. If I do performance and at the same time teach the Fa, that is equivalent to teaching evil Fa. That means, people come to the lectures not to learn the Fa, but to learn your techniques." (Zhuan Falun, Volume II)
In ten lectures, Master systematically explained the high-level Fa principles so that we can cultivate to a very high level right from the beginning. As long as we follow Master's teachings to improve our minds and assimilate to Dafa, we will be able to cultivate to achieve consummation. Master gave us so much but didn't ask for anything from us as long as we have a heart to cultivate Buddhahood and upgrade ourselves.
4. Master Shows Compassion with a Buddha's Grace
The Korean ethnic group is very lucky and fortunate. Master taught Dafa in China for over two years and Yanji, the capital of Yanbian State, was the only place with many Korean nationals that Master visited to teach Dafa. The Korean nationality was the first to obtain Dafa after the Han nationality. At present, many people in South Korea are cultivating Dafa and some people in North Korea are also cultivating Dafa. Fellow practitioners in Changchun City told practitioners in Yanbian that Master really cared about the cultivation situation of Dafa practitioners in Yanbian City and also told us that we had a great pre-destined relationship with Master Li, and that we should not let down Master's expectations for us and should cultivate diligently. During the past 13 years, in the process of personal cultivation and Fa-rectification, Yanbian Dafa practitioners have gone through many tests and tribulations, fell down and took tortuous paths. With Master's compassionate protection, we firmly walked through and we also made many magnificent feats to validate Dafa that shocked heaven and earth.
5. Master's Grace is Unforgettable
On August 27, when the Fa lectures ended, Master encouraged us all to persist to the end and achieve consummation. Practitioners from all over China offered some baskets of flowers and the multicolored silk banners to our great and compassionate Master. Practitioners of Korean nationality wore colorful national dresses and used the most grand courtesy to express our appreciation. Master compassionately smiled and the scene was warm and exciting. I can see the scenes of 13 years ago today as clearly as if they were yesterday. Master is so great and merciful. Let's travel the last part of the path righteously and fulfill our pre-historic pledge.
---
Practitioners Exchange Insights and Experiences
---
About Our Mindset and Ideas While Writing, Composing Music, or Creating Fine Art
(Clearwisdom.net) The persecution of Falun Gong has lasted eight years, as have the experiences of Falun Gong practitioners being persecuted and exposing all bad things related to the persecution. Amid efforts to end the persecution, practitioners manifest steadfast belief in Dafa, validate the power of "Truthfulness-Compassion-Forbearance," and walk on the path to godhood. Nevertheless, persecution is not a precondition for practitioners to cultivate during the Fa-rectification era or to validate the Fa. The persecution is something the old forces have imposed on us. We must completely destroy this! So far, most of the arts and literary works practitioners have created seem to accept the persecution as inevitable, as something that "ought to be," or even consider it the sole theme and main thread. That might give the impression that, without the persecution, Dafa would be somehow less magnificent and Dafa disciples somehow less worthy of respect and admiration. This kind of mindset is inappropriate. I feel it reflects a misunderstanding of our roles as being that offer salvation to sentient beings and cultivate during the Fa-rectification. I think it will leave regrets for the people that follow us with regard to validating the Fa.
It is not because of the persecution that people respect Dafa and Dafa disciples and like to listen to what Dafa disciples have to say. We do not need to be incarcerated , imprisoned in forced labor camps, or tortured as part of our cultivation. People respect Dafa and Dafa disciples because Dafa disciples can manifest Dafa's grandeur under all circumstances. They manifest wisdom, the supernormal, and the pure realms that "Truthfulness-Compassion-Forbearance" bring to life. Persecuted practitioners indeed have painful experiences. The persecution must be put to an end. We must expose the evilness of the CCP and use the facts of the persecution to clarify the truth, save sentient beings, and help fellow practitioners. Nonetheless, the victims of severe persecution who are incapable of extricating themselves from the tribulation do not represent the mainstream of Dafa disciples. This is especially so as it relates to the first two categories out of the three categories of people that comprise Dafa disciples that Master Li mentioned. Therefore, if we only focus on the aspect of the persecution in our literary and art works and lack other content and ideas, we will leave regrets behind.
This unprecedented evil persecution is a horror that Dafa disciples and the world's people will forever remember. Yet the number of practitioners being tightly constrained by the persecution over the long-term; (e.g. years of unlawful imprisonment or prolonged torture), or giving in to the evildoers under pressure, represents a small portion of the total number of practitioners. A lot of practitioners had been abducted and detained, but they soon matured based on the Fa principles. The evil forces do not dare to touch them again. In some other cases practitioners slacked off in their righteous thoughts, and the loophole was taken advantage of. But after practitioners became clearheaded and strengthened their righteous thoughts, they were no longer persecuted.
Thus, besides exposing the persecution, Dafa disciples' literary works, musical compositions, dance pieces, and paintings should positively and objectively manifest the brilliance, good future, and wonders that Dafa brings to sentient beings, and the goal and happiness of beings having obtained the Fa. We should not leave the impression that once one cultivates Dafa one will be persecuted, lose one's job, choose to become homeless, or even die from torture and the family broken up.
Of course we should avoid going to another extreme, i.e., always speaking of other dimensions and giving people the impression we are irrational and unrealistic. Despite the manifestation of the massive persecution and Dafa disciples having suffered losses and detours on their way to godhood, we can live happily, aided by the diamond-solid Dafa. We can then achieve selflessness, a broad mind, and mighty virtue from cultivation. We can live happily, without pursuing what other people do and fully realize the significance and value of life.
The above is my personal understanding. I wrote it simply to express my thoughts with practitioners interested in writing, composing music or creating fine arts.
---
Cherishing this Cultivation Opportunity - Returning to One's True Home
(Clearwisdom.net)
I Reincarnated over Many Lifetimes to Seek the True Buddha Fa
I was born in a remote Xinjiang Construction Army Team. I have several sisters, and my family was very poor . My parents worked arduously. For as long as I can remember, I would enter into a marvelous state whenever I went to sleep. I felt like I lived in a shoe. This shoe became bigger. I went into a huge world. My parents were poisoned by the Chinese Communist Party (CCP). They didn't believe in any religion. But I truly believed that there are gods and Buddhas in the universe, and that when we have a calamity, Buddha will come to save us. I knew even at a young age that human life is very hard in this world. I knew once people obtain the Buddha Fa, they may escape this abyss of misery.
In the1990s, I was studying at a university. In China at that time, qigong was very popular. Of course, there were numerous forms of qigong. I put all my endeavors on searching for the true Dafa. After graduation, I continued to work on my master's degree. Because of my study, I read some religious books, such as the Diamond Sutra and the Bible. I learned from those books, and my morality improved as well. But I felt Buddhism and Christianity were already in the "Dharma-ending period" so they couldn't save people. I also believed that there should be another practice that was better. I knew that when people obtained the Buddha Fa that they would be able to escape this abyss of misery. But how could I find the true Buddha Fa?
In 1997, I went to Beijing for research. While I was there I had two dreams that I still remember to this day. One is that I had reincarnated many times in this world. I lived very hard lives to find my Teacher. I remembered an authentic object given to me by Teacher. In another dream, I was rowing a boat on a very calm lake. A red-crowned crane flew to me. I held its foot and I rode on its back and flew toward the sun.
I decided to pursue a doctoral degree. My purpose was to find the truth, the Buddha Fa. Maybe it was because of this thought that I was accepted over a dozen other candidates. In June 1998, I met a classmate and she told me that she was practicing Falun Gong. She gave me several books. Those books were so precious to me. The next morning, I went to the practice site. When I practiced sitting in meditation, I sat for 45 minutes in the double lotus position. Afterward, I felt as if I was riding the wind when I walked, I was so relaxed. I read Zhuan Falun for the first time. When I read it the second time, I understood even more. I realized I had finally found the Buddha Fa, and my decision to cultivate has never wavered.
Concentrating on Cultivation, Teacher Is with Me Everywhere
1. Happy Days
In September 1998, I was studying for my doctoral degree in another province away from home. I enjoyed the happiest time in my life there. I found a practice site the second I arrived at the university. At that time, there were quite a lot of practitioners, including about ten students and 30 practitioners from outside the school. In the morning we had group practice and our energy was very strong. The sacred Buddha's light shined upon us, which made us very calm and compassionate. During the night, our students got together and practiced the sitting meditation. We all felt that Teacher was next to us. At lunch time, we studied the Fa together. I was the only female practitioner there, but I felt so familiar with and trusting of the others. They were like my relatives. After studying the Fa, I sometimes saw lots of shining Falun, and I realized that this was Teacher encouraging me.
At the beginning, my challenge was "no second cultivation way." I used to study Buddha scriptures. Those religious books and qigong books interfered with me a lot. To get rid of this interference, I gave up all my books of Buddhism and studied the Fa diligently instead. Whenever I was being interfered with, I would remember Teacher's saying,
"Don't let your mind be disturbed when you see an enlightened person from another school of practice. Stay with only one school of practice. Whether it is a Buddha, a Tao, an immortal, or a demon, they should not move your heart. In conducting oneself this way, success is bound to be in sight." ("Lecture Six" from Zhuan Falun)
I recited repeatedly. I finally got through this tough period.
After I started cultivating Falun Dafa, I actively participated in Dafa activities. When the assistant asked me to spread the Fa somewhere, I would definitely go. We normally were on a busy street and stood beside the road in a very orderly fashion. We followed the music and practiced the exercises. The energy field was so strong. The whole scene was so splendid that many passersby were attracted.
I also actively spread the Fa to my classmates and my family. I hoped they could listen to the Buddha Fa. During my winter break, I went home and introduced Dafa to my younger sisters and my mother. I played Teacher's lectures on tape. I also carried Dafa books to visit my professors and my classmates. If they wanted to learn Dafa, I gave them the books. If they didn't want to learn, I told them about Dafa. When I returned to school, I told my classmates about Dafa, and they gradually started to learn about it.
But just as they started to practice, the old forces began persecuting Dafa. Many of them thus gave up this precious opportunity. Whenever I thought about those people, I was so sad.
2. Right Before the Persecution Started
In March 1999, we listened to Teacher's recording of "Teaching the Fa at the Eastern U.S. Fa Conference" and "Teaching the Fa at the Western U.S. Fa Conference." My understanding of Teacher's Fa was very shallow at that time. I felt it was so tough to spread the Fa because of interference from the old forces. But I didn't realize that the persecution would come so soon and be so evil.
In May 1999, the environment changed for the worse. News about practice sites being harassed or closed down continued to be heard. The practice sites outside of school were constantly being harassed. The number of new practitioners was growing at our site. The Dafa meditation energy was so strong there. The sacred Buddha's light shined upon us. There were new practitioners constantly. I was very happy to see those practitioners so reverent. I taught them the movements very earnestly. However, that environment didn't last long. Our practice site was closed down. If there had been no old forces interfering, all sentient beings would be saved, so the whole universe would have been benevolently resolved.
In early July, the Dafa assistance center organized a Fa sharing conference. We played the recording "Teaching the Fa at the Conference in the Midwest-U.S." I was fortunate to be there. I listened to Teacher. What I remember most was a question asked by a practitioner.
"Question: Master, please tell us, when Jesus was about to be crucified, what were all of his disciples doing? Master, please relay this to people around the world and in the heavens: We Dafa disciples will absolutely not allow such a thing to happen.
Teacher: (Warm applause) Thank you! Cultivators should not be affected by human thoughts, as you are cultivators. I thank you all for your heartfelt feelings about Dafa and Master. I know them all." ("Teaching the Fa at the Conference in the Midwest-U.S.")
On July 21, we heard the news that our Falun Dafa Research Association was about to be illegally dissolved. Practitioners started appealing to the provincial government. At night, there were still lots of practitioners there. The next day morning, the sky was clear. The air was so fresh, and the street was already being blocked. We took the back roads to get to the provincial government. At around noon, the officials told us to go home, but we stayed. Later they used public buses to take us away. From the buses, we all saw many Falun in the sky. We all were very encouraged.
The bus stopped at Qilihe Stadium, where we were registered by district. We were then taken to Taoshuping Elementary School. Practitioners arrived continuously. We were put into the classrooms, where we recited Teacher's Jingwen (articles and lectures) while we waited. In the afternoon, those in charge played videos about how Dafa was being "banned" and they slandered Dafa. At night, the officials informed companies and schools to pick up their employees. However, they required us to sign a document before being released.
The department heads from the university were ordered to pick up us, but we refused to sign the document, so they had to go back empty handed. At midnight, the school security section sent people to pick us up. We were separately and illegally interrogated, and they tried to force us to sign our names. I still refused to sign my name but my parents pressured me. I signed against my will after two days. After I left the school security office, I went to my classmates' room to return books. I saw the TV news that was slandering Dafa. I was so upset that I cried. I was in tears and tried to clarify the truth to my classmates.
3. True Thoughts in My Heart
Later, the department heads were under pressure from higher-level officers, and they talked with us and had meetings to publicly denounce the practice. At that time, the whole environment was evil. No matter how bad the situation was, I still believed in Teacher and Dafa and was determined to never give up cultivation. However, I did play with words and wrote a guarantee statement under pressure. When I saw "Teaching the Fa at the Western U.S. Fa Conference," I realized my mistake. I had brought shame to Dafa. I had brought shame to my cultivation. I published a solemn declaration on the Minghui/Clearwisdom website nullifying what I had said and done.
In 2000, a practitioner successfully went to Beijing to appeal and came back. We were all encouraged. It also enhanced our confidence in validating Dafa. We used different ways to distribute Dafa materials. At night, as I walked around my school after distributing materials, I felt so huge, and others around me were so tiny.
In June 2001, practitioners were arrested because they wrote truth clarifying messages on walls. I was also arrested when I tried to transfer materials. In the detention center, my parents visited me. At that time, they cried a lot. They took me as their spiritual support, so these circumstances were difficult for them. They used all sorts of ways to threaten me. For me, all I could think was, "True compassion for my family is when I complete my cultivation. They will be saved then. And any compromise will result in ruining their chance for salvation even though it might bring temporary comfort." I kept this thought and didn't give up. My parents were very disappointed and went home. Since I didn't give up cultivation, I was transferred to a detention center. I gradually adjusted my attitude and found my attachment. I always had a bad temper and was not calm, which would easily be taken advantage of by the evil beings. In the detention center, I continued to study the Fa, practice and send forth righteous thoughts. Whenever the guards talked with me, I clarified the truth to them as much as I could, according to their ability to understand. Because of practitioners' efforts to clarify the truth to them, they gradually had a correct understanding of Dafa. They no longer wanted to give practitioners a hard time. Moreover, they secretly helped us. I also clarified the truth to prisoners. Some of them believed in Dafa very much. They liked me to recite Teacher's lectures. In detention, I was given copies of Teacher's latest articles "Fa-Rectification Period Dafa Disciples" and "The Effect of Righteous Thoughts." They greatly encouraged me, and I memorized them. Judging myself against them, I found my weakness, but I still far from the standard of Dafa.
After three months, I was transferred to a forced labor camp hospital. There were no practitioners and no Fa to study group. I was very disappointed. One of the ladies believed in Buddha. She had a good impression of Dafa. I wrote down Teacher's Hong Yin and gave it to her. She was released soon after. My husband came and was ready to take me home for National Day. Those in charge at the 610 Office at my school threatened me to get me to write the guarantee statement. At that time, my thinking was that I must be a real practitioner during the Fa-rectification and that I should not write any "guarantee." At that time, I didn't have a deep understanding of Teacher's new Jingwen, "Fa-Rectification Period Dafa Disciples." Finally, my husband felt there was no hope to get me out of there. He was prepared to go home by himself. At night, the doctors informed me that I was going to go home. Actually, the doctors in the hospital helped me secretly. They said I had hepatocirrhosis, and the 610 Office worried about being held responsible so they just released me. In fact, if our thoughts are righteous, Teacher will help us. That same night, I went back to school. My classmates were in tears when they saw how skinny I had become.
In May 2002, my husband was pressured by his company. He kicked me out of the house, so I went back to my hometown, Lanzhou. I met old practitioners. I felt so good. I got Teacher's newest lectures and Jingwen, and I read "Touring North America to Teach the Fa." Then I went back to Chongqing to work. My husband still wanted to divorce me. I hadn't eliminated my attachment. Using the excuse that I should not cooperate with the evil, I refused to consent to a divorce. Several days later, I was arrested again when I distributed CDs. I was transferred to several detention centers. I shared with fellow practitioners in the detention centers. I told them about Teacher's new lectures and encouraged them to do better.
Since my registered permanent residence is in Lanzhou, I was transferred to Lanzhou. I sent righteous thoughts on my way. I kept a righteous attitude, and the detention center's officers refused to accept me. I was sent to a forced labor camp. I continued to send righteous thoughts. They then changed their minds. They decided to send me to a forced labor camp hospital. I knew Teacher was helping me.
In the hospital, they only told me to eat well, with no mention of writing repentance statements. I knew I didn't do well in detention before. Now it was time to make up for it. I started to eat regular meals. I clarified the truth to new prisoners, and I found my fundamental attachment, the sentimentality between husband and wife. I constantly sent righteous thought to eliminate it. One day I dreamed that I eliminated a big fish which looked like a monster. I also dreamed a practitioner smiled at me and sent me home. In the morning, I was clarifying the truth to the prisoners. Someone told me to go see my parents, who had come to bail me out. The school officials gave me a "leaving school" document and an "arriving document" in order to find a job in my hometown. Thus, I was back in my hometown.
Eliminating Human Attachments - Waking Up Lost People with Compassion
1. Paying Attention to Sending Righteous Thoughts
Through studying the Fa, my mind has became clearer and calmer. I realized that practitioners are helping Teacher rectify the Fa and save sentient beings. But the old forces hold their selfish attachments and interfere with Teacher's spreading of the Fa. This persecution was forced upon practitioners and it must not be accepted. This persecution is not like normal people persecuting practitioners but rather the old forces use the evil factors to interfere with people who could be saved. Thus, I take sending righteous thoughts very seriously.
I still felt huge pressure on me during that time. It seemed like the evil was right at my back. I felt clearly it was on my back, following me and trying to persecute me. I sent righteous thoughts more often. I sent righteous thoughts hourly for one month. Finally, I eliminated the evil factors hiding behind me.
At first, my nephew disturbed me very much when I sent forth righteous thoughts. I knew this was caused by the evil, so I sent righteous thought to eliminate the evil factors behind my nephew. Gradually, he stopped bothering me. The situation improved. One day as I sat cross-legged, I felt I had become a Falun and that I sent out Faluns. I believe that sending righteous thoughts is the most powerful weapon. It can truly eliminate the evil and stop the persecution. Through sending righteous thoughts, my family stopped interfering with my cultivation completely, and my environment improved. The effect of my clarifying the truth became better.
2. Harmonizing My Work Environment
When I worked in my hometown, I was strict with myself and treated my coworkers and students with compassion. I helped everyone as much as I could, and I earned their trust. I used different ways to clarify the truth wisely. They could understand practitioners and liked to hear the truth about Dafa. At that time, I felt very comfortable clarifying the truth, and I was happy, too.
At work, I paid attention to my behavior. I displayed the demeanor of a Dafa disciple everywhere I went. I helped everyone as much as possible, no matter if they were minority ethnic or Han ethnic. I treated them all equally. Dafa gives me truth and compassion, which allows others to trust me and also helps them to understand the truth. I got along with one female teacher very well. I usually used Dafa and my experience to persuade her to treat people nicely and consider others so that she would not hurt others. She was very happy to accept my words. Some coworkers understood the truth about Dafa. They voluntarily told me other practitioners' stories. They considered practitioners to be very nice people with high standards and ethics.
One weekend, I visited my department head. We had a long talk. I spoke about the "cultural revolution" and the persecution by the CCP against all religions. I also talked about how wonderful Dafa is and the CCP's persecution of Dafa. She sympathized with Dafa practitioners and told me that some of her relatives suffered torture during the cultural revolution. She also said there were minority ethnic teachers who cultivated in Dafa before 1999. She encouraged them to continue with cultivation. When I gave lectures to my students, I clarified the truth to them. They were all open to hearing the truth about Dafa. I also clarified the truth to graduate students' instructors. They immediately realized the truth about the persecution.
3. Strengthening My Righteous Self, Harmonizing My Family
In September 2003, I was transferred to one of the southern cities for work. When I arrived in the south, I realized that I still had some impure factors, like some unrighteous thoughts or attachments. I saw that many people were attached to material gains, which made them hesitate listening to the truth. I had a hard time clarifying the truth to them, and my previous knowledge of my program didn't help me. My department director knew that I was a Falun Gong practitioner so he purposely suppressed me. My husband remarried me, but he was still against Dafa. He often treated me violently, which made me very upset. My uneasy feelings were exposed. Sometimes I couldn't help crying when I read Teacher's Fa. I felt humiliated, and I wanted to call out to Teacher. Sometimes when I woke up in the middle of the night and heard the train in the distance, I really wanted to go away.
But I knew I was a Dafa practitioner. I needed to be calm and wise, and not go to extremes. I should consider the influence of Dafa in any situation and know that Dafa is my priority. I should not be emotional. This situation lasted about a year, which interfered with my clarifying the truth and saving people. The evil interference was very strong. For a time, my husband quarreled with me and wanted to get a divorce. When I played the the Plum Blossom Poem DVD, some students opposed it. Luckily, some students spoke out for me. At night, some students talked with me specifically to persuade me not to speak out on behalf of Dafa publicly.
After this lesson, I started to self-reflect. I tried to find my fundamental attachment. I began to pay attention to my righteous thoughts. I found out that I didn't study the Fa very diligently and that I judged others with a lack of compassion. I was attached to a selfish need to feel free and I ignored saving people. I lacked compassion, and I did not think of others first.
I realized my task was to save my husband and family and other predestined people. When I first came to the south I believed that I would do very well even though it would be tough. I also believed that I should fulfill my vows. I studied the Fa diligently and paid attention to my every behavior, word, and thought. I eliminated uneasy thoughts. I tried not to be selfish and I did not complain. I considered things from the point of view of the big picture. I did not want to leave a negative impression of Dafa and risk bringing any losses to Dafa, as people should not misunderstand Dafa or be against Dafa. I was sure I could create a cultivation environment. The attachment of fear and sentimentality vanished. My cultivation heart was very firm. My husband immediately stopped interfering with my cultivation. He also didn't ask me where I got the book. He didn't care if I studied the Fa, practiced or sent righteous thoughts. I constantly sent righteous thoughts and eliminated the evil factors behind my husband, eliminating the obstacles that kept him from cultivating. I continued on sending righteous thoughts and clarified the truth to him. He finally changed his attitude to Dafa and started to practice with me. He said silently, "Falun Dafa is good," and "Truthfulness, Compassion, Tolerance is good."
4. Saving Students
My current job has nothing to do with my previous field of study. However, Dafa gives me wisdom, which enabled me to learn those courses thoroughly. The result of my teaching was pretty good, too. When I taught students in class, I also added my understanding of the Fa to my lectures. I downloaded related articles from the Minghui website and shared them with my students. I made sufficient preparation and created multimedia shows.
When I taught ancient history, I taught students about the "Tui Bei Tu," and ancient Chinese prophecy. Their first reaction was that it was bunk. Later they weren't so sure. Gradually, they believed it to be true. They started thinking about the traditional historical point of view, astronomical phenomena, and the assimilation of humans and the heavens as understood in traditional culture. I often told them stories about such things as plants having feelings, animals saving people during tsunamis, the eight immortals, Westerners and researchers' attitudes toward metempsychosis, and funny stories regarding how awful the CCP is. Their attitudes changed, and they no longer blindly believed in atheism. They started calmly thinking about religion and believing.
It was a large class because it was a combined of students from four classes. The students' minds were very complicated. I still cannot speak openly about the Nine Commentaries on the Communist Party or withdrawing from the CCP in the class. But I believe they will understand the truth eventually.
In colleges around China, interest in traditional culture has been recognized. Many college are now offering a public course in Humanities and Social Science. It is about Chinese traditional culture. I am responsible for part of this course that is about the culture of Buddhism and Taoism, imperial examination policies, etc. I can utilize my strongest skill. I have used this chance to clarify the truth and I have earnestly taught this course well. First, I downloaded relevant course material because I believe that the Dafa website has Dafa power. Thus, I used content from Dafa websites. Secondly, I constantly purified myself and kept righteous thoughts. I normally practiced the sitting meditation at noon and gave lectures to students in the afternoon. I felt my mind was very pure so my words were very powerful and students liked to listen to me.
When I taught, I would inspire the students to think. They were very interested in cultivation. I told them the truth about Dafa. After my lesson, they clapped very warmly. I was very happy that they understood the truth.
When I went through their papers, I discovered that many of the students had changed their attitudes toward Dafa. Even though they couldn't express their points very directly, I still could see the rise of their spirits. Their attitudes changed from misunderstanding Dafa to supporting Dafa, from being against their relatives to supporting their relatives. I was really gratified about that.
5. Eliminating the CCP Factors
In late 2004, The Epoch Times published the Nine Commentaries on the Communist Party. I felt that it was great after I read it. I printed it out to give to other teachers to read. They had the same feeling as I did after reading it. The CCP poisoned people and they held a so-called "Maintaining the advanced Nature of Party Members" campaign. I resisted and eliminated those evil factors. I am not a CCP member, but non-CCP members were also required to write a report on their "understanding." I refused to write it. One of our instructors had just started to cultivate at that time. I gave him the Nine Commentaries on the Communist Party. He totally agreed with them. When he was at a meeting, he said openly and directly, "I don't have any understanding, I don't have any of the CCP's mindsets, and I didn't read books on Marxism, Leninism, or Maoism much. But I believe this movement is a total lie." I really admired his courage and honesty.
Normally I communicate with my co-workers as much as possible so that we can create a good relationship with each other. In time I have gradually clarified the truth to them. I gave them the truth clarification cards and told them the goodness of Dafa. They were all very happy to accept them. I also gave them copies of the Nine Commentaries. Some wanted to use the software to go to websites safely so that they could download the Nine Commentaries, Tears of a Nation - Beijing's Story, and other articles. They shared with me the CCP's scandalous behavior. In addition, when I visited my hometown, I brought copies of the Nine Commentaries to my old classmates to help them realize the truth about the CCP, and I persuaded them to withdraw from the CCP.
There are several practitioners in my school. Some young practitioners didn't cultivate diligently, but I helped them. I contacted practitioners one by one and gave them Teacher's new Jingwen and shared with them. I helped them to realize the precious chance to cultivate and the importance of clarifying the truth, and taught them to go to the website, making it more convenient for them. I encouraged them to do well with the three things.
Now the time is so urgent. Dafa disciples have already come a long way. We all should cherish this chance for cultivation and use this limited time to save people. It is the opportunity of an eternity that Dafa practitioners can cultivate at this time. Furthermore, we can save people and clarify the truth during cultivation. It is truly an opportunity that is hard to come by since the beginning of time. We should cherish this opportunity. Actually, all the Gods admire us. The old forces' behavior is just like an illusion. We should not be so deluded that we lose this opportunity.
---
Breaking Through Human Notions and Saving Sentient Beings
(Clearwisdom.net) I would like to share my recent cultivation and truth-clarifying experiences with my fellow practitioners.
Master said in "Teaching the Fa in San Francisco, 2005 (Lecture and Q&A):" "That is why doing the three things well is cultivation, while doing only one of the three isn't." After I understood what Master said, I started to find many ways to clarify the truth, such as chatting in Internet chat rooms, making phone calls to clarify the truth, and going to Hong Kong to clarify the truth. I think I can qualify as a good practitioner only if I listen to what Master tells us. The first time I made phone calls, I immediately started talking to whomever answered. When I went to Hong Kong to clarify the truth to people face to face, I clarified the truth to everyone I met. If sometimes I did not want to talk or I was concerned about people's human notions, I eliminated my notions and told myself that I needed to be merciful to everyone and that everyone should be saved. In addition, I studied the Fa and sent forth righteous thoughts intensively every day, shared truth-clarifying experiences with fellow practitioners, and watched truth-clarifying videos. I was able to clarify the truth more and more effectively. My wisdom emerged effortlessly. Sometimes the tourists from mainland China gave me a "thumbs-up." Some tourists encouraged me and some tourists quit the Chinese Communist Party (CCP) immediately.
Along with the quick progress of Fa-rectification, right now at the Hong Kong tourist sites, we can help mainland Chinese tourists withdraw from the CCP directly. The world's people are gradually learning the truth. But every day the total number of people who withdraw from the CCP worldwide varies from 30 to 50 thousand. Some practitioners have said that it would be good if every practitioner could persuade one or two people from the tourist sites to withdraw from the CCP every day. But if we follow this pace, when will we get to the point where we can persuade 100 thousand people to withdraw from the CCP every day? That will truly frighten the Party. Some practitioners can persuade 20 to 30 people to quit the CCP every day at tourist sites. We should not put limits on ourselves. Especially when this is to save people. After looking at the numbers, I sent forth righteous focused on my need to persuade at least 10 people or more to withdraw from the CCP every day when I clarify the truth at the tourist sites. I think, "I have come to clarify the truth and help you to save your lives by withdrawing from the CCP." After I send forth the thoughts, I am able to persuade more and more people to withdraw from the CCP. If I could persuade one person to withdraw, I could persuade three people at the same time. Although at most I have persuaded eight people to withdraw from the CCP in one day and I did not achieve my goal of 10 people, I still witnessed the good effect of persuading people to withdraw from the CCP after I broke through my human notions and had the wish to save sentient beings.
After I came back to Taiwan. I told myself that even if I do other Dafa related projects, I still need to spend time making at least one phone call or going to an Internet message site to clarify the truth and persuade at least one person to withdraw from the CCP every day. Persuading one more person to withdraw from the CCP is giving one more person the chance to be saved. We should not just cast a net, we should catch fish. One night after I sent forth righteous thoughts, I saw that someone had called me through the Internet messenger. I said, "If you want to withdraw from the CCP, please say 1. If you want to withdraw from Communist Youth League, please say 2. If you want to withdraw from the Young Pioneers, please say 3. I can help you to withdraw from the CCP and its related organizations." He immediately said 2 and asked me to help him to withdraw from the Communist Youth League. Certainly the reason I could help him to withdraw from the CCP so smoothly was that the people who talked to me were already filtered by the Internet CCP Withdrawing Center and they were usually willing to learn the true facts. But this also let me deeply realize that there are many people waiting for us to clarify the truth to them. We must persuade them to withdraw from the CCP directly.
Recently Master said in "Fa Teaching at the U.S. Capital,"
"Don't become complacent just because you think you've done such and such, for there are so many sentient beings that we have yet to save. You still need to push yourselves so that you may establish even greater mighty virtue within a limited timeframe, and so that you won't have any regrets when all is said and done."
I think that if each of our practitioners can expand his or her capacity to find more time to clarify the truth and persuade people to withdraw from the CCP--and are not satisfied with just having work to do--then I believe we can immediately persuade more than 100 thousand people to withdraw from CCP every day. There is nothing Dafa cannot achieve.
I also remember that one day when I sent forth righteous thoughts, I felt that my body was very big and my mind was very calm. But for some reason, I felt my big body was a little bit empty. I could not understand why at the time. Later I heard from a practitioner whose celestial eye was open that although personal cultivation can improve our levels, if we don't clarify the truth, our worlds will be empty. In other words, if we clarify the truth, our worlds will be enriched. This Fa principle already made it clear that clarifying the truth is saving sentient beings, as well as enriching our own worlds. Recently Master mentioned again in "Fa Teaching at the U.S. Capital,"
"No matter what, you should do the final things even better and establish even greater mighty virtue. It is not for my sake or for the sake of Fa-rectification: It is for you yourselves."
Master mentioned it again and again in the Fa teaching. He nearly told us the ultimate truth. If we still do not understand and do not try hard to do it, we will not live up to Master's compassionate salvation. We will not provide what sentient beings expect of us. We will forsake the responsibility that history has bestowed upon us.
One time I was printing a persecution case in my dorm. Curious, my roommate asked me what I was doing. After I clarified the truth to him, he suddenly held my hand and said to me with great sincerity, "I will tell my descendants later that you were my roommate. You will definitely become famous in the future." At that time I just smiled and thought he was exaggerating. But later, when I studied the Fa, I was surprised to realize that it probably will come true. Master said in the article "Rationality" in Essentials for Further Advancement II,
"When this page of history is turned, the people who remain will see your magnificence, and the future Gods will forever remember this magnificent time in history. Validate the Fa with rationality, clarify the truth with wisdom, spread the Fa and save people with mercy--this is establishing the mighty virtue of an Enlightened Being."
Master has already told us everything and prepared the best for us. The only thing left for us is to understand the Fa and fulfill our task.
I started to cultivate the Fa nearly three years ago. I have encountered trials and hardships, falling and stumbling on the road of cultivation practice. I understand that I still do not meet the Fa's requirements for Dafa disciples and I still have many shortcomings. But I will continue to improve myself and do the three things better to save more sentient beings.
The above is my personal understanding. Please kindly point out any mistakes.
---
Overcoming Obstacles and Calling People in China to Clarify the Facts about the Persecution
(Clearwisdom.net) I am a 63 year-old practitioner from Taoyuan, Taiwan. I started practicing Falun Gong about four years ago. In February 2007, when the Chinese Communist Party (CCP) tried to interfere with New Tang Dynasty TV (NTDTV) presenting the New Year Spectacular, many practitioners called the Chinese government to clarify the facts and to encourage the CCP stop interfering with the event. At that time, because I can speak Chinese, I decided to call them, too.
To help me out, another practitioner prepared a simple script that I could read when making a call. Because I am not very adept at speaking Mandarin, I often ask my listeners if they can understand what I have said. If the listener doesn't understand, I give him or her a QQ number where they can chat on the Internet with other practitioners, the station number for the Sound of Hope (SOH) radio, or a telephone number for a "Withdraw from the CCP" Service Center. Then I read the script again.
Later, to encourage me, my fellow practitioners said, "Now that you are calling people in China, why don't you try to make follow-up calls to those who have heard the information about withdrawing from the CCP? So I started making follow-up calls. At first, not one of the people I called agreed to withdraw from the CCP. However, as long as they listened to me clarifying the facts, I still felt encouraged. When a listener swore at me, I stayed calm and didn't take the words personally. My only concerns were, "Did the person want to listen to me, did the person understand me?"
When a person didn't want to listen, I would call back seven or more times. Sometimes, the person's attitude was really bad and they would tell me to stop calling. However, I would call back a couple of days later and say, "I don't have much education, but I am calling for your benefit. The CCP has done so many bad things that withdrawing from it is the only way to be safe." After I called a few times, some people would change their attitudes and agree to withdraw from the CCP. When they tell me that Falun Gong is very good, I feel so happy for them.
I also go to Taoyuan Airport to clarify the persecution facts to tourists arriving from mainland China. My phone call experiences, especially the ones that I called multiple times, really helped me understand the tourists, how to clarify the facts to them, and how to help them withdraw from the CCP. Now I say, "You don't have to register or show any identification to withdraw from the CCP. You only need to withdraw within your heart. The Gods can see what's in your heart." Many people say, "OK!" and agree to withdraw from the CCP.
Where I live is quite far from Taoyuan City. I get up at about 3:30 a.m. every day and do the exercises first, then ride my bike to the bus station and take two buses to Taoyuan to participate in group Fa study. Teacher told us that the group study environment is very precious. I feel so happy to be with fellow practitioners. We study the Fa and send forth righteous thoughts five days a week, and now we also clarify the persecution facts together.
I used to be illiterate and could read very few words, and I rarely read anything. After I started practicing Falun Gong, I learned many words and have no problem studying the Fa with others. I know that Teacher opened my mind. I also feel certain that Teacher gave me the wisdom to clarify the truth to others and to help them withdraw from the CCP.
I'm not good at talking to people. In the beginning, when calling people in China, I was very nervous and simply read the prepared script. Now I am no longer nervous. I know the importance of saving people. This is my responsibility. Making a phone call is very simple. I believe everyone can do a better job than I. I will continue making phone calls, clarifying the persecution facts, and helping people to withdraw from the CCP.
---
My Understanding about Hunger Strikes
(Clearwisdom.net)
I often read articles on the Clearwisdom website about practitioners using hunger strikes to protest persecution in prisons and forced labor camps. However, I have a different understanding of this issue. In my opinion, going on a hunger strike is a way of cultivation by practitioners that remains within the forms of persecution arranged by the old forces, and it is not in accordance with the Fa.
While rectifying the Fa and doing the three things--studying the Fa, sending forth righteous thoughts, and clarifying the facts to people--in all kinds of situations, Dafa practitioners have to walk the path that Master arranges for us and cultivate ourselves well according to Master's requests. We have to eliminate attachments, including those to life and death, clarify the facts with dignity to all the people in the world, and save sentient beings poisoned by CCP lies.
I feel that those who are imprisoned should change their thinking, and not use the method of hunger strikes. We should eat when it is time to eat in order to maintain enough energy to clarify the facts to people, explaining how the CCP uses lies to poison people and persecutes Dafa practitioners with all kinds of brutal and vicious means. We have to tell the people of the world that we are indeed innocent. No matter how long our sentences, whether eight or ten years, we should care less about human notions, not think about our sentences, and just do whatever we are supposed to do.
In 2002, the evil regime sentenced me to three years in a forced labor camp. Many practitioners asked how the regime could sentence me to three years. But I had only one thought at that time: "The regime's words count for nothing; I only listen to Master." By holding this thought, I was released four months later with the explanation that I needed medical treatment.
I have kept it clear in my mind ever since that I should be steadfast in believing in Master and in the Fa. These years I have been doing all that I am supposed to do with a dignified attitude. I came to realize that while we are cultivating ourselves at home and are doing the three things, we have to have a clear understanding about what constitutes personal cultivation, what constitutes Fa-rectification-period cultivation, what it means to walk the path arranged by the old forces, and what it means to walk the path arranged by Master. Only when we understand these things well can we do things correctly and best help Master to rectify the Fa and to save sentient beings.
---
Lessons Learned Through Polishing Articles
(Clearwisdom.net)
Greetings, Master!
Greetings, fellow practitioners!
I have been a polisher--a task that involves proofreading and editing--for the Clearwisdom website for several years now. Polishing was the first "steady" Dafa job I ever accepted and I hope that I will be able to stick with it for the remaining time period. I have learned so much about myself doing this job and it has been a really crucial aspect of my cultivation. I find that it is truly marvelous how Master arranges every detail of our cultivation. He has often pointed out that nothing is accidental and every twist and turn of our cultivation carries significance. To me, this means that every article I receive for polishing is directed at me. I am inclined to take every article I receive as a personal hint from Master, a hint that is either intended to help my cultivation, to point out my shortcomings, or to form a prearranged test for my determination to cultivate.
For example, sometimes I polish an article and my initial reaction is to get upset. I may be thinking: "Oh, this is so repetitive! I wonder how much more often this person is going to mention that he is attached to fame and validation of his own self? He has already mentioned this several times! Give me a break!" After a while, sometimes only days later, I actually do get the point: The message was directed specifically at me. It was repeated so often in the article because I tend to be rather dense at times. My emotional reaction of getting upset is always a sign that the attachment described is really my own attachment. I only have strong emotional reactions when the problem relates to me.
The process of polishing an article leads to a better understanding than simply reading the finished product on Clearwisdom.net in the morning. It creates a special bond between the polisher, the translator, and the author back in China. Indeed, it helps shorten the distance between individual practitioners, and often when I send forth righteous thoughts later, the specific circumstances in which the authors of the articles back in China find themselves pop into my head. Quite naturally, I then encompass them in my righteous thoughts. I have often felt that during those times, I am actually sending righteous thoughts at a close distance. Although we may be physically far apart, I feel mentally close and I believe that this state is very effective when sending forth righteous thoughts.
Another important "relationship" aspect of Clearwisdom work is that, by definition, it requires the seamless interaction of Chinese and Western fellow practitioners. I know that many of us tend to feel frustrated by the artificial differences the East-West cultural divide seems to create between us. The translator-polishing teams are forced into a relationship where they absolutely depend upon each other's skills. Having done this for a while, I believe that I am now much more effective at interpreting the intended meaning of the Chinese authors and translators, and that I have gained a better understanding of the directions their thoughts take. Cultivating "compassion" is essential for this process, of course.
At other times, I manage to read between the lines of articles. I clearly sense certain attachments in the authors that they themselves don't mention and that they probably don't even recognize. Whenever this happens, I get a good appreciation for how easy it is for any of us to overlook our own attachments, while other practitioners who look at us through a wider focused lens can spot them easily. This realization makes it easier for me to accept criticism from other practitioners and to take them very seriously. When someone points out my shortcomings, I try to remember that if I can recognize someone else's attachments, just by reading their writings, then surely they can do the same thing for me!
Compared to my fellow practitioners, I am not a very diligent cultivator. Even more disturbing is that I still have so many doubts and that so much thought karma still plagues my mind. And yet, amidst all this interference, I can clearly tell how marvelously our paths have been arranged for us, how wonderfully our talents and our strengths and weaknesses balance each other out, and how perfectly we complement each other. Someone with the right talent always turns up exactly where he is needed. A little time slot always seems to open up in our busy schedules just when some extra effort is needed. This sense of wonder about all the intricacies around which Master has arranged everything always pulls me back on my path.
In some way, every practitioner I've encountered during my cultivation has contributed something to my cultivation, and I think that I have probably done the same for them. I conclude that I need to be very conscious of conducting myself according to the standards of the Fa in all of my interactions with you.
Thank you all. Thank you, Master.
---
How I Benefited from Memorizing the Fa
(Clearwisdom.net) I am a Dafa disciple, and I am over 70 years old. I have gone through the process of memorizing Zhuan Falun five times. I felt that when I clarified the truth to save sentient beings, having memorized the Fa made the process go much more smoothly.
The morning market is one of the biggest markets in our city. From spring to fall, small retailers and nearby vegetable farmers come to sell their products, so there are always lots of people. I have been going to the morning market to clarify the truth and to give people truth-clarification materials in person since 2000. In the beginning people were scared of being persecuted by the CCP. But I kept trying, and gradually people began to accept the materials and to take them home to read. Thus they gradually learned the truth and understood that people who practice Falun Gong are all good people. I have always however, felt that I could do better in truth-clarification. So I searched within and began memorizing the Fa.
Every morning I start memorizing the Fa before daybreak. At dawn I go to the morning market to clarify the truth. Days and years have passed. Little by little I came to know many of the sellers. Whenever they see me they yell, "Falun Dafa is good!" One person who sells fish yells, "Falun Dafa is good" every time he sees truth-clarification materials. Because now people all understand the true facts, passing out the Nine Commentaries on the Communist Party and persuading people to quit the CCP have become quite easy. Many people have helped their family members quit the Communist Party, the Communist Youth League, and the Young Pioneers. Now many sellers take the initiative to ask me for the Dafa materials. A peanut seller said, "Whenever I have Dafa materials in my hand, my products sell more quickly." Many people have changed their attitude toward Dafa and they are now very friendly toward Dafa practitioners because they have realized that people who practice Falun Gong are all good people.
Once I met an older lady who was a bit younger than I. She understood right away after I clarified truth to her. Also, her righteous thinking was quite strong. She said, "I hope this Party will disintegrate soon. This Party is so evil. The officials from top to bottom level are all corrupt. High-ranking officials take big bribes and minor officials take small bribes. They are bilking the nation, and the common people are suffering so much. We are lucky that Falun Gong is saving people, otherwise people won't be able to survive any longer." Wherever she goes, she tells people that Falun Gong is good. Other people warned her to be careful, and that someone may report her. She said, "I'm not afraid. I will say 'Falun Gong is good' no matter what." She is terrific.
I once went to an apartment building to pass out truth-clarification materials. When I exited the building, I saw a regional police officer standing nearby. A thought quickly passed through my mind, "I am a Dafa disciple. There is Master and the Fa, so I'm not afraid of anything." I naturally walked up to him and said, "Hello." The policeman murmured and could not even say anything. Dafa's power had already eliminated all the evil factors behind him so that his human side was very weak.
Another time when we were having group Fa study, some police officers rushed into the room and were about to take away our books. I jumped up from the bed to get the books back and told them, "If you dare to take the books away, I will go to Beijing to appeal tomorrow." In the end the police could not do anything and left quietly.
I realized that memorizing the Fa has helped me to increase the capacity of my heart, so that whenever I encounter something I can do better by searching within. When conflicts come, I can just smile and forget about them, and when I realize that I am wrong, I am able to correct myself immediately. There was once a conflict between me and another practitioner, and I felt that the situation was unfair. But then I used the Fa to measure myself and discovered how silly I was--as for someone to reach even the Arhat level, his heart must not concerned about anything, and I am a Dafa disciple who is trying to reach a much higher level than that. How can I be called a Dafa disciple if I am concerned with such small matters? After I eliminated the attachment, everything returned to normal and I smiled sincerely when I saw that practitioner again. I felt that my body had become very light. I shared this experience with practitioners in our Fa-study group and they benefited from it, too. We thus improved and advanced as a whole.
Memorizing the Fa has also helped me achieve a tranquil mind when I send forth righteous thoughts. Because the Fa is in my mind, I have few distracting thoughts. One time as I sent forth righteous thoughts, I saw the character Mie (meaning "cleaned out," "eliminated," "purged") was shining in gold and my (Assistant) Spirit was sitting in the air, sending forth righteous thoughts and purging the evil. In short, I have benefited so much from memorizing the Fa.
Since my level is limited, please kindly point out anything that is inappropriate.
---
People Awaken to the Truth
---
"It's Unbelievable!"
(Clearwisdom.net) On August 27, 2007, Falun Gong practitioner Uncle Cao and his wife went as usual to the Chinese Consulate in Auckland, New Zealand, to hold up a banner to protest the persecution of Falun Gong by the Chinese Communist Party. They also clarified the truth and distributed flyers to people.
A small car suddenly broke down and stopped on the roadside opposite them. The driver was a Chinese man in his sixties. He got out of his car and lifted the hood. After trying to repair the car for a long time, he decided it was no use. He phoned his friend to come help him, but the car still refused to move. Then he phoned the mechanic of a car repair company for his services. However, the car was still not fixed. The repair man told him that perhaps there was a blockage in the oil line, and all he could do was to wait for his car to be towed away. While waiting, the driver greeted Uncle Cao.
Uncle Cao and the driver started to chat. The driver asked, "Why are you all here?" Uncle Cao answered, "We have been coming here every day for six years. The purpose is to let everyone, including the employees of the Chinese Consulate, know that Falun Gong is good by ourselves being good people. Falun Dafa is a cultivation method based on the principles 'Truthfulness-Compassion-Tolerance.' We are taught be be good people, and all who practice Falun Gong are good people. We hope to expose the truth about the Chinese Communist Party persecuting Falun Gong. We want people to no longer be deceived by the lies and slanderous propaganda spread by the Chinese Communist Party and Jiang's regime."
The driver said, "I heard that you guys are paid to come here every day." Uncle Cao laughed and said, "Why don't you come here like us and see if you get paid? We are spending our own money every day. We drive here because we are are Falun Gong practitioners who believe in Truthfulness-Compassion-Tolerance. We believe that Falun Gong is good from the bottom of our hearts. The Chinese Communist Party and Jiang's regime have done many evil deeds. They have spread rumors and slander and brought false charges against Falun Gong practitioners. They even remove the organs of Falun Gong practitioners while they are still alive, for profit. Practitioners have lost their lives a a result. If I tell you the true facts, then you will know all about this, and there will be a way to salvage the situation!" The driver said that he was a Christian. Uncle Cao replied, "Then you should know that in the Bible there is a saying that if you believe the words of the devil, you will have '6' marked on your forehead. Only those who know the truth will have the '6' marks removed." The driver remarked, "Wow, is it really true? The tow truck is here. I have to go!"
After a while, the driver came back and said to Uncle Cao, "It's unbelievable today! Why? My car could not be repaired by several people. The tow truck driver came to start my car, and the car started right up. I, myself, also tried it a few times, and the car is okay. Hey! It is really good! That tow truck driver was a Westerner and I did not know him, but I couldn't let him make a trip for nothing. I wanted to give him ten dollars for a drink, but he told me that I was a good guy, and he was determined not to take the money of a good person! It is really miraculous!"
Uncle Cao smiled from the bottom of his heart and said, "It is very simple. You have a predestined relationship with enlightened beings, and thus they helped you." The driver laughed happily and thanked Uncle Cao before he drove off.
---
Clearwisdom Material
---
Clearwisdom Review (Volume 2, Issue 33, September 2007)
The Clearwisdom Review is a weekly newsletter, which highlights current information about the persecution, practitioners' activities worldwide, and the benefits of Falun Dafa. The purpose of the newsletter is to provide current and updated information about Falun Dafa in a brief and easily accessible format. Through new articles each week, the newsletter will strive to provide a balance of coverage on a range of topics relevant to Falun Gong. The newsletter can be downloaded in PDF format for viewing or distribution.
---
Download Clearwisdom Review 2007 Issue 33:
---
Table of Contents
Practitioners in Heilongjiang Province Appeal to International Organizations
Truthfulness, Compassion, Forbearance International Art Exhibition Held in Cambridge
Falun Dafa Saved My Life
The Human Rights Torch Arrives in Berlin
Introduction to Falun Dafa
About Clearwisdom
---