Boston: CCP Organ Harvesting Gets Attention at the World Transplant Congress (Photos)
July 27, 2006
|
By Falun Dafa practitioner in North America
(Clearwisdom.net) The first World Transplant Congress was held in Boston on July 23, 2006. More than 6,000 doctors and scientists from 85 countries gathered in Hynes Convention Center for a five-day congress. The allegation of organ harvesting from living Falun Gong practitioners for profit drew attention from the attendees.
Chair of the congress Dr. Kecime, Surgical Director of Organ Transplant at Massachusetts General Hospital, expressed that the congress and he have learned about the allegation of harvesting organs from living Falun Gong practitioners happening in China and the Canadian independent investigative report. He felt that if the practice of live organ harvesting that is against medical ethics is true, the congress committee and the international organ transplant circle will strongly condemn it.
Display boards and banners protesting the CCP harvesting organs from living Falun Gong practitioners
Falun Gong practitioner Kay Harmon from Orlando, Florida, stood at the entrance to the Hynes Convention Center in Boston early on the morning on July 23rd, passing out copies of the "Report into Allegations of Organs Harvesting of Falun Gong Practitioners in China" to every doctor who passed by to attend the World Transplant Congress. Many of them had already heard about the atrocities.
George Abouna from Drexel Medical Institute in Philadelphia expressed his support for Falun Gong practitioners, and said he had long learned about the organ removal from prisoners in China's prisons. A group of Japanese doctors also told practitioners that before coming to the United States, each of them had got the information regarding the CCP's harvesting organs from living Falun Gong practitioners.
| | |
| --- | --- |
| George Abouna said that he has long known about the organ removal in China's prisonss | Conference attendees read about the CCP's live organ transplants |
There were seminars on a variety of topics, including issues of medical ethics, on the first day of the congress. When being asked if the congress has international standard and related requirement on organ suppliers, and if the congress provides code of medical ethics for the countries including China, Mr. Kathryn J. Wood from the congress agenda committee answered that the congress is negotiating and cooperating with the World Health Organization (WHO) on related matters concerned.
A person-in-charge of scientific research from one of the major sponsoring companies of the congress, Astellas, expressed that their company will not establish any cooperation with China regarding human organ transplants, because China does not have law and regulations on organ transplants, and also they do not agree to use the organs from death penalty prisoners as sources of suppliers. The woman in charge who did not want to reveal her name also said that everybody knew the seriousness of the organ transplant problems in China, and no one in the medication companies that study to assist the organ transplants is willing to have connection with them.
"World Organization to Investigate the Persecution of Falun Gong" said on July 23 that among the targets for investigation are Chen Zhishui and Chen Zhonghua from the CCP's Tongji Hospital in Wuhan. They had submitted dissertations to the congress. It is reported that more than 100 people from China attended the congress. They provided over 70 dissertations on organ transplants.
Falun Gong practitioners wore T shirts exposing the CCP's harvesting and selling human organs. They attracted attention and interest from doctors and local people in Boston. Doctors who came in and out of the Hynes Convention Center expressed their support for Falun Gong by buying T shirts. A doctor from New Delhi expressed, "What we can do now is to prevent Chinese doctors from joining in the international organ transplantation organizations, because their way of doing things is against the statute of transplant association."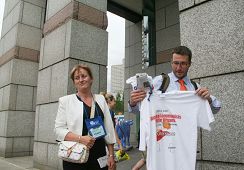 Doctors buy T shirts exposing the CCP's harvesting organs from living Falun Gong practitioners
Director of Italian Careggi Kidney Transplant Center Prof. Maurizio Salvadori said that in Italy, live organ donation only happens among family members. He felt very "sad" for organ harvesting from living Falun Gong practitioners.
Maurizio expressed, after learning that the Canadian Independent investigator David Kilgour would hold a press conference on July 25, Tuesday in Boston, that he would lead over 60 people from their group to attend it to show support.