Malaysia: Falun Gong Practitioners Call for Exposure of the CCP's Crimes on World Press Freedom Day (Photos)
May 07, 2006
|
By Falun Gong practitioners in Malaysia
(Clearwisdom.net) May 3rd is World Press Freedom Day. Falun Gong practitioners in Malaysia sent out their second batch of signature collection forms on this special day to call for the international community to investigate the crime of harvesting organs from living Falun Gong practitioners by the Chinese Communist Party (CCP). In the meantime, they submitted a copy of collected signatures to the Malaysian government and urged the government to help stop the CCP's atrocity.

Petition in front of Prime Minister's Office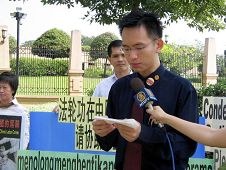 Falun Gong practitioner Cai Weiqiang spoke at the event on Wold Press Freedom Day
Falun Gong practitioners in Malaysia collected 1,500 signatures during this event, as part of the total of 2,100 signatures collected up to now. Besides the Prime Minister's office, Falun Gong practitioners also sent copies of the signatures to the Department of Foreign Affairs, Department of Health, Department of Youth and Sports and the People's Voice, a human rights organization.
A representative of Falun Gong practitioners told the reporter that they hoped the international community, government and media would pay attention to this most violent genocidal atrocity. He said, "The reason why the CCP could continue with the crime is because they covered it up. Today happens to be World Press Freedom Day. The international community and media should bring the spirit of press freedom into play and expose the covered-up crimes, so that together we can stop this atrocity."