Falun Gong Practitioners' Artwork Wins Awards at Amnesty International Art Show (Photo)
February 05, 2006
|
By an Australian Falun Dafa practitioner
(Clearwisdom.net) On January 28, 2006, the 9th "Freedom, People's Choice Exhibition" organized by Australian Amnesty International had an award ceremony. One Falun Gong practitioner's oil painting, "The Death of a Truthfulness Compassion Tolerance Believer" won the "People's Choice" award. Another Chinese-Australian painter and Falun Gong practitioner, Zhang Cuiying's traditional Chinese painting, "The Beauty of Spring" won the "Freedom Art Award".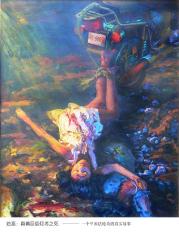 Award winner: "The Death of a Truthfulness Compassion Tolerance Believer"
According to Zhao Xijie, who painted the "The Death of a Truthfulness Compassion Tolerance Believer," the painting depicted a true story that took place in June 2001 at Gaiguo Township of Macheng City, Hubei Province. Two local Falun Gong practitioners were dragged to death by two motorcycles because they didn't give up practicing Falun Gong. Zhao said he sent the painting to the exhibition, aiming to raise more awareness of the persecution of Falun Gong in China and to help end the persecution soon.
This painting won the People's Choice award out of more than 80 submitted works of art. Many people looked at the painting for a long time and read the introduction carefully. Many who saw the painting did so solemnly and left with tears in their eyes.
Zhang Cuiying, who won the second place award with her traditional Chinese painting, "Beauty of Spring," is also a Falun Gong practitioner. Because she is a practitioner and spoke up for Falun Gong, she was jailed in China for eight months, during which time she suffered a great deal of mental and physical torture. On September 15, 2004, Ms. Zhang filed a lawsuit against the head of the Chinese Communist Party, Jiang Zemin, and the 610 Office in the New South Wales Superior Court.
Amnesty International has organized the "Freedom, People's Choice" art exhibition every year for the past nine years. The purpose is to raise the public's awareness of AI's efforts in improving human rights worldwide. It also encourages people to help however they can. The works of art displayed the artists' understanding of "Freedom".
The exhibition was at the TAP gallery in Sydney from January 23rd to February 4th.