(Clearwisdom.net)
Liu Huijia (her nickname is Xinzhu), 12 years old, is the daughter of Falun Dafa practitioners Liu Hongwei and Yu Lixin. Shao Linyao is the son of Dafa practitioners Shao Hui and Mu Ping. Since July 20, 1999 when the persecution of Falun Gong began, time after time, Liu Jiahui and Shao Linyao faced not only separation from their parents, but also the possibility of becoming orphaned.
On May 13, 2002, Falun Dafa practitioner Yu Lixin, Xinzhu's mother, from Jilin City was tortured to death at Jilin Province Hezuzi Women's Prison. In August 2002, Dafa practitioner Shao Hui (Shao Linyao's father) from Huadian was tortured to death at Jilin City. The children, Liu Jiahui and Shao Linyao, thus each lost the love from one of their parents. Shao Linyao has not been told that his father was tortured to death.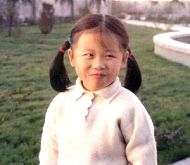 Liu Hongwei and Yu Lixin's daughter Liu Jiahui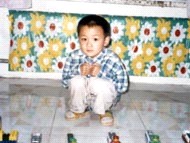 Shao Hui and Mu Ping's son Shao Linyao
It was very difficult for Liu Jiahui to see her father, because police officers from the National Security Team in Jilin Province and staff from the 610 Office searched for him everywhere during the past years. They even went to Xinzhu's school in an attempt to find her father. This has frightened and worried young Xinzhu deeply. Xinzhu often wonders, "Dad, when will you come to see me?" But knowing that all these people were looking for her father, waiting to arrest him, she shared her worries and anxieties with no one. She just hid in a corner and was sad, thinking, "Dad, please take care and be careful! Stay safe! This is my greatest wish."
From the time he was three years old, Shao Linyao experienced time after time the trauma of the police taking his parents away. He experienced loneliness, helplessness, being terrified and sadness because of missing his family. He suffered much pain in his heart. When his parents were illegally arrested the first time, Shao Linyao cried all the time. Since he was a mature child, he didn't cry loudly, but he kept wiping his eyes in secret. In the evening, when he went to bed, he covered himself with a blanket. He can't remember how often he woke up crying. One time, he went with his grandmother, uncle and aunt to visit his mother at the forced labor camp. He thought that they would pick up his mother. When he didn't see his mother in the car as they were leaving, he cried hard. He asked his grandmother unhappily why she didn't try her best to get his mother released. He was a well-behaved child, but this time, no matter how hard they tried, they couldn't stop him from crying. He cried during the entire four-hour trip. By the time they reached home, he had lost his voice. At daycare, he often couldn't help crying. When the teacher asked him why, he said that his parents were suffering at the forced labor camp, and the guards shocked them with electric batons.
Mu Ping, who had been tortured for close to three years at the forced labor camp, was released on bail and allowed to go home. Shao Linyao never left his mother's side, because he was so afraid of losing her again. He didn't want to go to bed until his mother came home after having gone out. He just sat there until she came home. When his mother told him that he had to go to bed earlier, since he had to go to school the next day, he said tearfully, "I was so afraid that you were arrested again by the bad people. If you don't come back, I can't calm down."
The persecution has wounded two children's hearts to different degrees. Due to the similarity of their experiences, Liu Hongwei's and Mu Ping's families became one family. Liu Hongwei and Mu Ping went to Changchun City, where they found jobs and settled down. On October 24, 2006, police officers from the National Security Team in Jilin Province arrested Liu Hongwei and Mu Ping at their workplace. The perpetrators from the National Security Team in Jilin City teamed up with police from Mengjiatun Police Station in the Chaoyang Police Sub-Bureau in Changchun City and ransacked their home. They confiscated a laptop, cash, a deposit book with 70,000 yuan, Dafa books and truth-clarification materials. The practitioners were taken to Jilin City Detention Center the next day. Liu Hongwei is detained in Cell No.101 in the detention center, and Mu Ping is detained in Cell No. 608.
When their family learned that police from the National Security Team arrested Mr. Liu and Ms. Mu, they immediately called staff from the National Security Team in Jilin City to inquire about it. Staff from the National Security Team pretended not to know anything. They claimed that they didn't know where they were. They even asked the family how they came to know about it. The family insisted to be told the truth, so the staff from the National Security Team finally admitted to the arrest.
After staff from the National Security Team confiscated Mu Ping's bank deposit book, they went to the Huadian Construction Bank and instructed the bank to freeze Mu Ping's 70,000 yuan savings. When her family went to the bank to withdraw the money, they found that the bank account was frozen.
Liu Hongwei and Mu Ping are separated from their families again. Mu Ping's 76-year-old mother, hurt deeply, suffered a relapse of her heart disease. Liu Hongwei's 64-year-old mother went to the National Security Team in Jilin City to ask for her son's release. The National Security Team claimed that they had to attend a meeting. They just didn't want to meet her. After much effort, she was able to meet with the Division Manager Lin from the National Security Team who told her to wait and that she couldn't see her son now. The elderly lady had to hold back her tears when she asked Lin, "What on earth did my son do wrong? Our family has lost one person, now you arrested my son; you don't want us to live, do you? My grandson has nobody to look after him."
Mu Ping was tortured inhumanly at Heizuizi Forced Labor Camp. Guards from Heizuizi Forced Labor Camp didn't release her until she was close to death. No one in her family thought that she would survive. They took her to the hospital for special care. But because of practicing Falun Dafa, she regained her health after some time, though she remained quite weak. Her family is very concerned about her health.
This persecution of good people who believe in "Truth, Compassion, Forbearance," is unprecedented in history. The mental pain of family members and children is more brutal than physical torture. After Yu Lixin was persecuted to death, Liu Hongwei was still detained at Changchun Chaoyanggao Forced Labor Camp. When his mother went to the forced labor camp with the hope of having her grandson see his father, her request was turned down.
Liu Hongwei and Mu Ping are still detained. The elderly mother is on the brink of a mental collapse. The children have not been told of the latest arrest of their parents.
We demand that the National Security Team release Dafa practitioner Liu Hongwei and Mu Ping unconditionally.
No. 9 Division in the National Security Bureau of Jilin City Police Station: 86-432-2409864
Address of Jilin City Police Station: No.51 Beijing Road in Jilin City, postal code: 132084
Deputy President Liu Peizhu: 86-432-2497117 (Office), 86-432-2586707 (Home)

Vice President Jiang Jichang: 86-432-2451641 (Office), 86-432-2409601 (Home)

Vice President Han Weimin: 86-432-2488017(Office), 86-432-2054088 (Home)

Vice President Yue Zhongtian: 86-432-2497666(Office), 86-432-2036988 (Home)

Vice President Yu Wei: 86-432-2449668(Office), 86-432-2576789 (Home)

Vice President Yu Zeli: 86-432-2459093(Office), 86-432-2031599 (Home)

Security Bureau:
Address: No. 59 Songjiang Road in Jilin City, postal code: 132011
President Yang Zhicai: 86-432-2503201(Office), 86-432-4661118(Home)

Vice President Li Guangchen: 86-432-2503202(Office), 86-432-4660118(Home)

Vice President Leng Yue: 86-432-2503203 (Office), 86-432-4678996 (Home)

Vice President Zhou Shaoming: 86-432-2503204 (Office), 86-432-4689396 (Home)

Vice President Wu Yunhong: 86-432-2503205 (Office), 86-432-2421588 (Home)

Vice President Liu Guohua: 86-432-2503206 (Office), 86-432-4657120 (Home)

Vice President Huo Yufeng: 86-432-2503207 (Office), 86-432-2503433 (Home)

610 Office -
Person in charge Yang Zhongping: 86-432-2010606 (Office), 86-432-2064639 (Home)

Assistant to person in charge He Baoxi: 86-432-2010611 (Office), 86-432-2022509 (Home)

Assistant to person in charge Li Zhimin: 86-432-2010613 (Office), 86-432-4682378 (Home)

Changchun City Police Bureau Chaoyang Sub-Bureau Meng Jiatun Police Station: 86-431-5521686