(Clearwisdom.net) On May 12, 2005, police killed Falun Gong practitioner Yang Yuhua from Daqing City during a force-feeding torture session in the Daqing City Detention Center. After her death, the police refused to return her body to her family. The police continued to monitor telephone calls between her family members and friends and followed them. Yang Yuhua's body is now being kept at the Daqing Oilfield General Hospital. According to an eyewitness, she was emaciated, her mouth and eyes were wide open, and her facial expression was that of being in extreme agony.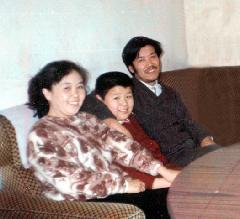 High-resolution photo: Yang Yuhua and family
Arrested and tortured by officers from the Tieren Police Department
Ms. Yang Yuhua, 50, was a teacher at the Daqing No. 6 Middle School. At midnight on April 16, 2005, about six police officers from Tieren District Police Department rushed into Yang's residence. They pulled her out of bed and took her away, along with her Falun Gong books and a computer. When the police ordered Yang Yuhua to sign the so-called "list of evidence", Yang refused and tore it to pieces. The infuriated police beat her violently. At midnight on April 17, she was sent to Daqing Detention Center. When a sympathetic person helped her to change her clothes, she found Yang's body covered in dark bruises. Yang Yuhua was critically injured.
After she was locked in a solitary confinement cell and forced to sit on a metal chair, violent force-feeding caused Yang Yuhua's death
Yang Yuhua was later sent to a solitary confinement cell and forced to sit in a metal chair for seven days. She resorted to a hunger strike to protest the persecution. Police intensified the abuse by force-feeding and other mental torment and physical tortures. People often heard her painful cries and calls for help, such as "The police are beating me!" Once, because Ms. Yang refused to comply with a humiliating jail rule, the police punished every person in her cell by forcing them to sit until midnight. During her hunger strike, she strongly resisted the violent force-feeding. For three days in a row, the police were unsuccessful in their efforts to force-feed her. She managed twice to bite and damage the feeding tube. Infuriated, the police replaced the tubes and went on to torture her with the feeding until they finally killed her on May 12, 2005.
Police refuse to return her body to the family; instead they continue to monitor the family members
Yang Yuhua's body is now in storage at the Daqing Oilfield General Hospital. During the autopsy, people saw her severely disfigured face as a result of all the abuse she had suffered.
The Provincial Justice Department has now completed the autopsy. Yang's family is waiting to see the results before they file a grievance for the deceased. Undercover police are closely watching Yang's family members at their residences. They even monitor their cell phone calls. Police still refuse to return Yang's body to the family. Any visitation to see her body has to be approved and the police need to be present on visits.
The undercover police questioned all of the relatives who visited the family and conducted background checks on these people. Once a family member talked about Ms. Yang's death to a friend over the phone, the friend would soon receive an intimidating phone call from an official, who would threaten, "Don't get involved in Falun Gong-related things."
May 29, 2005