Malaysia: Practitioners Participated in International Challenge Day Activities in Sabah(Photos)
January 16, 2005
|
By Dafa practitioners from Sabah, Malaysia
(Clearwisdom.net) The Falun Gong practice site in Sandakan region of Sabah state, Malaysia has been established for more than 4 years. Practitioners' peaceful demeanor has won deep respect from the director of a public sport facility, where they were invited to participate in the International Challenge Day event. More than 600 practitioners and supporters from Sabah State participated this Sandakan city council sponsored event.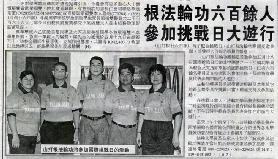 Local Newspaper "Freedom Daily" carried a news on practitioners' participation on May 27, 2003 on its "State News" edition
On the event day, the director arranged space for practitioners to display information about Falun Dafa in a stadium from 10 am to 5 pm. The director also arranged for practitioners to demonstrate the five sets of exercises at the stadium at 2 pm. A cameraman from National TV taped the whole demonstration.
The same afternoon, some practitioners also participated in the grand downtown parade which attracted about 5000 participants. Many citizens watched the parade from along both sides of the parade route.
Practitioners participated in a parade held in the downtown Sandakan city of Sabah