(Clearwisdom.net) Falun Gong practitioner Liu Feng, who was studying in Ireland, has been successfully rescued and returned to Ireland. Liu Feng and his wife arrived in Dublin this week. On Thursday this week, a press conference will be held in Trinity College to inform and express thanks to all circles of society about Liu Feng's return.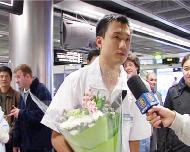 During the Christmas break in 1999, Liu Feng went back to China for a short holiday. He was arrested for peacefully appealing to the office of Zhu Rongji, the former Chinese Premier, to stop the persecution of Falun Gong. His passport was confiscated, and he was detained in Dalian City and released after fifteen days.
In May 2002, Liu Feng was married and in June 2002 he reapplied for a new passport to return to Ireland. During the period of waiting for the Irish visa, Liu Feng was secretly abducted and put into Yaojia Detention Centre.
In Yaojia Detention Centre, the police detained Liu Feng for over eight months without any evidence and indictment for crimes. He was then sentenced to two years of "re-education through labour" and put into Dalian labour camp. The custody, hunger-strike and heavy slave labour caused Liu Feng's health to deteriorate. After fainting in the labour camp several times he was finally released and sent to a hospital outside the labour camp.
During this period of time, Falun Gong practitioners, universities, human rights organisations and government officials in Ireland paid intensive attention to Liu Feng's situation and carried out a long, drawn-out rescue campaign.
At the end of year 2002, the annual postcard sending activity, organised by members of Amnesty International over all Ireland, chose the persecuted Falun Gong practitioners "Liu Feng, Yang Fang and Lin Chengtao" as the cases for the year's activity. The postcard appealed to the Irish Foreign Minister to help rescue those Falun Gong practitioners being persecuted. Twenty thousand postcards were sent out and five thousand cards returned, which was the highest return rate ever. At the beginning of 2003, the person in charge of Irish Amnesty International, Sean Love, and the representatives of Falun Gong practitioners in Ireland together handed the postcards to the Minister of Overseas Development in the Foreign Office, Tom Kitt.
From 2002 to 2003, Falun Gong practitioners in Ireland, Student Unions in Dublin Universities, and the Student Union of Ireland held many parades and rallies, appealing to the Irish government to help to rescue Liu Feng and Yang Fang.
In 2004, a meeting of the Student Union of Ireland passed a resolution to ask China to stop persecuting Falun Gong and allow Liu Feng and Yang Fang to return to Ireland to continue their studies.
In February 2004, three counties of Dublin passed resolutions to urge China to allow the two students to return to Ireland to study. During these years, many Irish MPs asked the Irish Premier and Foreign Minister to mention Liu Feng and Yang Fang's issues to China.
In the first half of 2004, Ireland was taking its turn as the Presidency of the European Union. Many international conferences related to China were held in Ireland, which provided uncommon opportunities to rescue Liu Feng and Yang Fang.
In February 2004, the European Union-China Human Rights Dialogue was held in Dublin. Liu Feng and Yang Fang's cases were formally put forward at this meeting by the Irish Foreign Minister.
In April 2004, the Asian-European Foreign Minister's Meeting was held in Ireland. At the press conference, the Irish Foreign Minister, Brian Cowen, gave a positive response regarding Liu Feng and Yang Fang's issues.
On the 11th of May 2004, Wen Jiabao visited Ireland and a special public hearing about the Falun Gong issue was held in the Irish Parliament's Human Rights Subcommittee. Three Falun Gong practitioners made speeches and the Irish Times reported on the hearing. The human rights subcommittee decided on the spot to raise an urgent motion to request the Irish Premier to put forward Liu Feng and Yang Fang's issues when meeting with the Chinese Premier that evening. Next day, at the parliamentary routine debate, the Irish Premier said that both he and the vice-premier had diligently solicited for Liu Feng and Yang Fang's cases, and also he mentioned that their diplomatic effort was successful.
Shortly after Wen Jiabao's visit, the Chinese Ambassador to Ireland, Sha Hailin, held a meeting with the Irish Students' Union. During the meeting Sha Hailin claimed that the two students themselves don't want to return to Ireland. The president of the Irish Students Union asked Sha Hailin what would happen if they wanted to return to Ireland and Sha Hailin indicated that Liu Feng could return to Ireland to resume his studies. Liu Feng eventually was able to come back.
However, at this moment the Irish visa policy tends to be strict. The visa can be issued only after the tuition fee has been paid. The tuition fee at Liu Feng's college has increased a lot. After Liu Feng's situation was conveyed to Amnesty International, volunteers in two areas of Irish Amnesty International proposed to recruit donations for Liu Feng's college tuition fee, but that would take time. Many Irish MPs and Mayors urgently asked the Justice Minister and Foreign Minister to issue a visa to Liu Feng. By chance the representatives of the Irish incumbent party visited China at that time. An MP in the Irish delegation agreed to put forward these two students' cases again while visiting Beijing and also urged the Irish government to issue visas as soon as possible. Finally, on 22nd July, the Irish Justice Minister granted special visas to Liu Feng and his wife.
On the evening of 25th July, Liu Feng arrived at Dublin airport. This process of rescue once again manifested the strength of peace and justice. The unreasonable persecution is shameful, and all persecution will be soon be brought to an end.
Source http://www.clearharmony.net/articles/200408/21177.html