(Clearwisdom.net) After reading the article, "Young Mother Who Was Three months Pregnant Dies of Injustice, Where Is Her Little Daughter?," through our various efforts we were able to find Huang Kaixin, Ms. Luo Zhixiang's three year-old daughter in Kaixin's father's hometown of Rujia village, Wujin Township, Linqu County, Shandong Province. Ms. Luo Zhixiang was a Falun Gong practitioner who died as a result of the persecution she received while she was illegally detained by the Chinese authorities for practicing Falun Gong. Somewhere around May 10, 2004, little Kaixin, together with her grandfather and grandmother, left Guangzhou City and went to live in Rujia Village.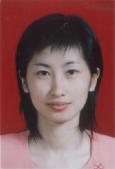 Ms. Luo Zhixiang died as a result of the persecution by the Tianhe District "610 Office" and the Guangzhou City "610 Office" (1)
Wearing a beautiful dress, with a face as lovely as her mother's, Kaixin showed the shy curiosity of a little girl. While I was looking at her I couldn't help but think about the loss of her mother and the love she held towards her father. We really felt pity towards this little girl who had suffered so much.
| | | |
| --- | --- | --- |
| Kaixin in July 2004 | Kaixin in July 2004 |  "I miss Mama" |
Kaixin quickly drank three containers of milk and ate a piece of ham we had brought for her. We were surprised at how fast she ate for a three year-old girl. Kaixin is currently living in a simple house with an old-style Chinese courtyard in an area where most of the houses are built with plain clay bricks. The walls of the room contain cracks as wide as a centimeter (approximately half an inch). Kaixin's grandparents are both over 50 years old and neither of them have any financial income. I quickly realized why she didn't need any encouragement with regards to eating the food we brought her.
| | |
| --- | --- |
| A corner of the room |  A leaking roof with cracks |
After a while, Kaixin's shyness wore off and she proceeded to play by herself. We asked her, "Kaixin, do you miss your mom?" "Yes" she replied while kissing her mom's photo with great affection. She frequently told her grandparents, "I saw Mom, she is so beautiful, Mom frequently comes to see me."

The sad scene on December 5, 2002, reappeared in my memory. Little Kaixin, who was less than two years old, arrived in Guangzhou with her paternal grandparents after traveling a great distance hoping to see her mother, but all that awaited them was the dead body of her mother. Seeing Kaixin kissing her mother's picture, I felt the deep bond that existed between Kaixin and her mother.

When Kaixin was only 50 days old, her father, a Falun Gong practitioner, was being detained in a forced labor camp, when Kaixin's grandmother was taking care of her mom. The photo was taken when Kaixin and her grandmother were forced to live away from home in order to avoid being arrested and to provide safety for Kaixin.
| | |
| --- | --- |
|   | Kaixin and her grandfather |
So far, Ms. Luo's mother still doesn't know of her daughter's death. She is still expecting Luo Zhixiang to return home at the end of the year. (For fear that she couldn't bear the pain of losing her daughter, Kaixin's uncle didn't tell her about her death.) I can't imagine how much pain it would bring to Ms. Luo's mother if she learned about the true situation.
| | |
| --- | --- |
| Photo of Luo Zhixiang and Huang Guohua at the time of their marriage | Luo Zhixiang in her wedding dress |
But at the age of only three, little Kaixin has suffered so much and seems very mature for her age. Her grandmother brought her to visit her other grandmother (her mother's mother) in Boluo County, Guangdong Province. Her grandmother asked her, "If your other grandma asks you about your mother, what will you say?" Kaixin didn't reply.

At the maternal grandmother's home, when people talked about her mom, Kaixin just sat aside and said nothing. Later, her paternal grandma asked her, "Your grandma was so curious about your mother's situation, why didn't you tell her that your mother was killed?" Kaixin then said, while swaying her hands, "No, no! If I said that, grandma would be very sad and would cry for a long time."

I don't know what death means to little Kaixin. But her attitude towards the situation resembled that of an adult; she was even able to take into consideration her maternal grandma's feelings regarding her mother's death. Maybe that's a reflection of her mindset. The only thing that restricts her from fully expressing her feelings and love for her mother is her lack of vocabulary at such a young age.

Luo Zhixiang's family was still very unclear about the reason of Ms. Luo's death. The evening when Luo Zhixiang was declared dead, she called her mother-in-law in a very weak voice and said that she was going to deliver her baby. The police officers declared Ms. Luo's death a result of suicide, saying that she jumped from a window. Ms. Luo hadn't eaten anything for a week, she had difficulty in both talking and walking and was being closely monitored by three people from the "610 Office" of the Xinhua Street Office of Tianhe District, Guangzhou City. Her sister was also accompanying her at that point. What makes it even more suspicious is that at the time of her death, her sister was sleeping. So who is responsible for the process of her death? Normally, even when Luo Zhixiang went to use the bathroom, someone would accompany her, that being a basic rule used in brainwashing centers in China. So how could she have had a chance to commit suicide? Further, Falun Gong has clearly explained in its teachings that it is wrong to commit suicide, so how could she herself commit such an act, especially while carrying a child?

After Luo Zhixiang died, injuries were found on both sides of her head. A physical exam found that the baby she was carrying was in a normal position. But how could this be after suffering such a huge force of impact when she supposedly jumped to her death? According to officers, she collided with an air conditioner while she was falling. If that's the case, the injuries on Luo's body are really abnormal.

After Luo Zhixiang's death, her body was still preserved after 125 days. Kaixin's uncle (Zhixiang's brother) was threatened by the Military Coordinator of the Street Office of Tianhe District, Guangzhou City to agree to a cremation; otherwise, they wouldn't register Kaixin as a Guangzhou resident. Later they were able to deceive Huang Guohua (Zhixiang's husband) into signing the papers and so they then quickly cremated Zhixiang's body. Huang Guohua was then detained at the Huadu Forced Labor Camp. It is commonly believed that if a body is preserved for three months after death, then the cause of death was unjust. It's easy to understand why those officers were scared. Later, little Kaixin and her grandparents were driven out from the hotel where they were staying. They drifted about the streets for about four months. In their application for the 300 yuan (2) minimum survival money, the local government made things difficult for Kaixin's grandparents. A mere application for the money took three months. I can't imagine how Kaixin spent those days. Now at least she is safe, providing us with a little relief.

Currently, Kaixin's father has been released, but he is homeless and his whereabouts are unknown. Kaixin is still unable to meet her father. After Zhixiang's death, Kaixin didn't receive any compensation. She is currently living a very hard life with her grandparents.

We wish Kaixin a happy life!

Kaixin's residence of registration: Xinhua Street Office, Tianhe District, Guangzhou City, Guangdong Province.
Current living place: Rujia village, Wujin Township, Linqu County, Shandong Province.
Kaixin's grandpa's name is Huang Dianqing.

Tianhe District Government, operator: 86-20-38622222, Fax: 86-20-85572506
Tianhe District Appealing Office, Tel: 86-20-38622025
Head of Tianhe District's hotline: 86-20-85545347

Officers who should be held responsible for the persecution:
Cheng Di, male, approximately 40 years old, the Military Coordinator of the Street Office of Tianhe District and one of the heads of the local "610 Office". His hometown is Dongying City in Shandong Province.

Appendix: Corrections to some details as more facts became known:
1. In October 2000, Huang Guohua was arrested for delivering materials clarifying the truth about Falun Gong. He was sent to a forced labor camp after being detained at the Baiyun Detention Center for 135 days.
2. Luo Zhixiang's hometown is Boluo County, Guangdong Province, not the same as her husband Huang Guohua's hometown.
3. Huang Kaixin and her grandma and grandpa arrived in Guangzhou in December 2002.

July 10, 2004

Notes

(1) "610 Office": a bureau specifically created by the Chinese government to persecute Falun Gong. It has absolute power over each level of administration in the Party, as well as over the political and judiciary branches.

(2) yuan: Chinese currency, the monthly salary for an average Chinese urban worker is about 500 yuan.