(Clearwisdom.net) On July 17, 2004, an event entitled, "Respect Life and Remember July 20" was held on Chanyang Avenue in front of the Chiang Kai-Shek Memorial Hall located in Taipei. This was to memorialize the Falun Gong practitioners who have died from the ruthless persecution for upholding their belief in "Truthfulness-Compassion-Tolerance" since July 20, 1999, when Jiang's regime stated suppressing Falun Gong. About 5,000 Falun Gong practitioners from across Taiwan participated in the event.
Eleven methods of torture used against Falun Gong practitioners were re-enacted by practitioners. During the event, a press conference and play were held to expose to Taiwan and the international society the Jiang regime's atrocities in oppressing Falun Gong. Attorney Su You-Chen, Deputy Director of the President's Office's human rights consulting committee, Mr. Wu Hao-Ren, President of Taiwan Human Rights Advocate Association and other representatives of Taiwan human rights organizations also attended the event to condemn the brutal persecution of Falun Gong. The event was concluded with a candlelight vigil to commemorate those Falun Gong practitioners who have sacrificed their lives in upholding their belief.
| | |
| --- | --- |
| 1500 Falun Gong practitioners forming the Chinese characters of "Fa rectifies Heaven and Earth". | Candlelight vigil |
| | |
| --- | --- |
| Candlelight vigil | Candlelight vigil |
"Remembering July 20" press conference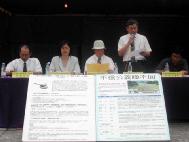 Press conference
Attorney Su You-Chen, representative of the President Office's human rights consulting committee, expressed that as a member of the human rights committee, Vice-President Lu Hsiu-lien is very concerned about the Falun Gong practitioners' human rights and asked him to attend this memorial ceremony. Mr. Su expressed his support and respect towards Falun Gong practitioners for their brave and persistent endeavor to oppose the persecution and uphold justice in defiance of the violence perpetrated against them.
Mr. Su pointed out that on February 21 and 22, 2003, more than 400 Falun Gong practitioners who held legal visas to Hong Kong were deported by the Hong Kong authorities in the name of ensuring security. In response to this incident, Vice President of Taiwan, Ms. Lu Hsiu-lien, head of the President Office's human rights committee formally protested to the Hong Kong government. She was very happy to learn that the lawsuit filed by Taiwan Falun Gong practitioners against the Hong Kong immigration office at the territory entrance recently gained qualification at the Hong Kong court.
Mr. Wu Hao-ren, President of the Taiwan Human Rights Advocate Association, said that as attorneys, "We cannot accept the fact that the Chinese government arbitrarily defines crimes and overrides the Presumption of Innocence to arrest, detain and even torture (Falun Gong practitioners). This kind of behavior has violated the world's most fundamental safeguards for human rights. It is unforgivable. We fully support bringing Jiang Zemin to justice."
Professor Wu Hui-lin from the China Human Rights Association called upon all kind-hearted people to stand up and condemn this persecution and to safeguard justice together.
At the same time, the press conference sponsor announced that in June, the "Taiwan Mission to Rescue the Persecuted Falun Gong Practitioners" was formally established. Professor Ming Chu-cheng from the Department of Politics, National Taiwan University, is the director. The mission secretary Mr. Liu Bing-hua said that the purpose of this mission is to respect life, belief and freedom, and to safeguard the Taiwanese people's human rights. He said, "Based on lofty morals and principles as well as real concerns, our safeguarding human rights is absolutely not a slogan, we will put them into action through rescue activities."
The Taiwan Falun Dafa Association expressed that since the Jiang regime started the cruel oppression of Falun Gong, millions of kind people have been persecuted. More than 1000 steadfast practitioners have been confirmed to have died from the suppression. In October 2002, Jiang Zemin was sued in a U.S. court for committing "torture, genocide and crimes against humanity". According to reports from the "World Organization to Investigate the Persecution of Falun Gong", as of May 2004, Jiang Zemin and his followers from the "610 Office" have been sued in the U.S., Canada, Germany, France, Belgium, Taiwan, Korea, Spain and Iceland.
After the press conference, Mr. Su encouraged attorney Chu Wan-chi to bring Jiang to justice. He said that he was especially concerned about the development of the lawsuit regarding Taiwan Falun Gong practitioners being deported by the Hong Kong authorities. He asked the practitioners to keep in touch. He pointed towards practitioners and said, "These people are really remarkable!"
Mr. Wu Hao-ren said that before he came to attend the activity, his father tried to hold him back and asked him not to get involved in the Falun Gong issue. He told his father that although he does not practice Falun Gong, he could not ignore the human rights violations against kind people and he had to join the activity. He emphasized that Falun Gong practitioners are totally peaceful and look so kind. He asked attorney Chu Wan-chi to pay attention to her personal safety.
During the event, 11 methods of torture used against Falun Gong practitioners were re-enacted. These included slave labor, being tied to a "dead person's bed", confinement in a small iron cage, digging bamboo sticks under the fingernails, burning with heated irons, force-feeding, injecting unknown drugs, hanging up, tightly tying and pressing, and the "tiger bench." The re-enactment drew quite a number of tourists' attention. People were shocked at such inhuman torture existing in the 21st century. Many people took photos or videotaped the torture scenes. Many people also signed the petition against the persecution.
While watching the torture re-enactment, a pair of westerners was surprised and asked, "Are these real? How could it be possible? They're so brutal!" They asked why they were imprisoned. Falun Gong practitioners told them that all of these demonstration were real. Since Jiang's regime started persecuting Falun Gong practitioners in 1999, at least 1006 practitioners have died as a result of the suppression. Countless practitioners have been beaten and tortured. Many practitioners were forced to leave their homes and became destitute to avoid being arrested. They were expelled from the Party, school and fired from their jobs.
While Mr. Wang, a government official and a Falun Gong practitioner, was watching the anti-torture exhibition, a TV reporter asked him about what he felt as he watched the exhibition. He told the reporter that the demonstration covered only a tiny part of the torture applied to practitioners. There are many more torture methods that are not re-enacted. He truly felt their pain and hoped that everyone who loves freedom will pay close attention to the situation and try their best to put a stop to the senseless persecution.
Three police officers came to visit the exhibition. They asked for updates on efforts to rescue the imprisoned Falun Gong practitioners. A young officer said, "Previously, I read the introduction of Falun Gong and was aware of the persecution of practitioners in China. Today, when I watched the exhibition, I can see that it is indeed brutal."
A reporter from a Taiwan TV station interviewed the torture re-enactment narrator, "Are these appalling tortures real? How do you know about them?" The narrator picked up a copy of the United Nations' human rights report and showed several pages to the reporter. The reporter said with his eyebrow wrinkled, "So what's being demonstrated here is just a tip of the iceberg!"
After listening to an introduction of Falun Gong and the benefits it has brought to people, a person from Malaysia who works in Taiwan left his phone number and expressed his desire to learn Falun Gong.
Seeing so many people practicing the Falun Gong exercises on the plaza, a western couple asked a lady by their side about what they were doing. The lady told them that they were practicing Falun Gong, which is very good for mind and body. The couple asked, "Are you with them?" The lady answered, "If possible, I hope I will be."
So far, Falun Gong practitioners have held anti-torture exhibitions in New York, Chicago, San Francisco, Las Angeles, Seattle, Sacramento, Brunswick and Savannah of Georgia, Toronto, Ottawa, Seoul, Hong Kong, Tokyo, Osaka, and Vienna.
| | | |
| --- | --- | --- |
| Force-feedings | Burned by heated irons | Slave labor |
| | | |
| --- | --- | --- |
| Confined in a small iron cage | Digging bamboo sticks under the fingernails | Acting out the persecution in a play |
Exporting state-run terrorism to other countries
The Jiang regime's suppression of Falun Gong is not limited to China. During Jiang's followers Zeng Qinghong and Bo Xilai's visit to South Africa from June 27 to 29, Australian Falun Gong practitioners were shot at on their way to an appeal. Their second vehicle was hit by at least 5 gunshots. Driver Mr. David Liang suffered gunshot wounds to both feet, requiring hospitalization and surgery.
From July 10 to 17, in order to raise awareness of the shooting perpetrated by Jiang's followers, Falun Gong practitioners from across Taiwan initiated a signature collection campaign. So far, more than 100,000 Taiwanese people have responded to call for a stop to this form of state-sponsored terrorism.
Young practitioners from Minghui school demonstrate the Falun Gong exercises
Young children's demonstration of Falun Gong exercises always draws people's attention. About 50 young practitioners from the Minghui School performed the Falun Gong exercises and sang songs composed by practitioners to extol Dafa.
A first grader and young practitioner said that she felt the tortures were really horrible after she watched the exhibition. Her older brother said that he would work even harder to distribute Falun Dafa literature so as to allow more people to know about the unjust persecution and the beauty of Dafa.