(Clearwisdom.net)
On April 22, while visiting the US, the Chinese Minister of Commerce Bo Xilai, was served a summons from the Washington, DC, District Court for abusing huge amounts of government funds to persecute Falun Gong during his term as Liaoning's Provincial Governor. According to reliable sources, agonizing screams were often heard outside the Masanjia Forced Labor Camp in Liaoning Province. In October 2000, at Masanjia, 18 female Falun Gong practitioners were stripped naked and thrown into the cells of male criminals. The cruel persecution of Falun Gong practitioners in Masanjia has led to at least five deaths, caused seven to suffer mental collapse, and physically disabled many.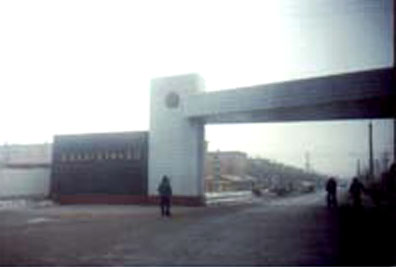 The front gate of the Masanjia Forced Labor Camp
According to an official Chinese media report, Liaoning Province, during Bo Xilai's rule, invested one billion Yuan (1) into strengthening its prison system, half a billion going to the Masanjia Forced Labor Camp in Yuhong District, Liaoning Province. Liaoning Province built the first prison city in China in 2003 on a 2000 mu piece of land (about 330 acres). Both the Dabei Prison and Dabei Women's Prison were relocated to Masanjia. The Chinese government claims that this modern facility holds more than 10,000 criminals, with supermarkets and banks and some areas open to the public.
Masanjia Forced Labor Camp -- the Money Machine
Masanjia Forced Labor Camp in Yuhong District, Shenyang City, was financially in the red for years before 1999. It could not even pay its electric bills. After the persecution against Falun Gong started, the government allocated 10,000 Yuan to Masanjia Forced Labor Camp for each Falun Gong practitioner sent to them from other parts of the province. The total number of detained Falun Gong practitioners over the last four years has reached 4,000, which means that 40 million Yuan has been funneled to Masanjia.
At the end of October 1999, the Women's Sub-Camp #2 of Masanjia Forced Labor Camp was established. It is under the direct jurisdiction of the Justice Department of the Central Government, whose mandate is to detain and persecute female Falun Gong practitioners. Originally there were less than 10 prison staff, including gate guards, in the Women's Sub-Camp #2, but now there are more than 100. Recruited at the end of 2001, many of the staff are young and from rural areas. The prison guards are paid twice a month and have great benefits. They have detained 1,500 Falun Gong practitioners who were abducted by the police and taken to Masanjia without formal legal procedure.
The Justice Department allocated one million Yuan to the Masanjia Forced Labor Camp to "improve" the environment. Su Jing, Chief of the Women's Sub-Camp #2, was awarded a bonus of 50,000 Yuan because she actively participated in the persecution of Falun Gong practitioners. She was also hailed as a "First-Class Hero." Assistant Chief Shao Li received a 30,000-Yuan bonus and all the brigadiers got bonuses as well. All of the prison guards were "honored" as "Second Class Heroes of the Camp." Government officials, Luo Gan, Liu Jing, and others came in person for an inspection.
Apart from the Masanjia Forced Labor Camp, Shenyang Dabei Prison, Dalian Forced Labor Camp, Zhangshi Forced Labor Camp, and Longshan Forced Labor Camp are notorious for their cruel torture tactics used against Falun Gong practitioners. By the end of 2001, the Liaoning Longshan Forced Labor Camp had received 400,000 Yuan in bonus money because of their efforts in persecuting Falun Gong practitioners, while Zhangshi Forced Labor Camp was awarded 500,000 Yuan. Prison guards would say in public, "If we were not paid money, who would be willing to do such a dirty thing?"
Addressing a group of inmates to be released from Masanjia Forced Labor Camp, a high official from the Liaoning Provincial Justice Department said, "Funds involved in dealing with Falun Gong has already surpassed that of a war chest."
Torture Tactics to Force Practitioners to Renounce Falun Gong
From July 20, 1999, to April 18, 2004, 103 people have died as the result of torture, the fourth highest number in the entire country. Reliable sources disclosed that agonizing screams were frequently heard at the Masanjia Forced Labor Camp. Those who do not agree to renounce Falun Gong are given treatments for mental patients, forced to have injections detrimental to the nervous system and to watch brainwashing videos as part of the policy of persecution. Severe beatings, torture and shocking with electric batons are commonplace at the Masanjia Forced Labor Camp. In October 2000, the international community was appalled to learn that female Falun Gong practitioners had been stripped naked and forced into male prison cells.
Masanjia started to use a new tactic for persecution Falun Gong practitioners by forcing steadfast Falun Gong practitioners into an airtight cell without sufficient oxygen. The whole cell would be sealed with foam about 4 inches thick. A person could not breathe properly in a room like that for long. The foam padding in these cells is full of practitioners' handprints, which were made as they struggled while being slowly suffocated during the torture.
Even elderly practitioners did not escape torture in the Masanjia Forced Labor Camp. An old woman with white hair was handcuffed to heating pipes for an entire night. After she was released, her legs were tied up again for nine hours. Another elderly woman was hung up and beaten and her arms were broken by the torture.
Zhang Haiyan Tortured Until She Suffered a Mental Breakdown and Later Died
According to Clearwisdom.net on April 27, 34-year-old Zhang Haiyan was tortured and suffered a mental breakdown. She died in extreme pain and anxiety.
Zhang Haiyan lived in Wangjia Zhirantun, Xiyou Village, Hujia Township, Heishan County, Liaoning Province. She started practicing Falun Gong in 1996. Not long after that, her crooked legs straightened and she benefited both mentally and physically. In mid-September 2001, she was arrested when she went to Beijing to appeal and was thrown into Heishan Detention Center. After two months, she was sent to the Masanjia Forced Labor Camp for two years.
During her detention in Masanjia, she was tortured -- the tactics used included hanging her by handcuffs, tying her up, beating her severely and so on. In February 2003, when her family went to visit her, Zhang Haiyan's head was wrapped up, her hands swollen badly, and she could not recognize her family members. At that time, Masanjia authorities still would not release her.
One month later the Labor Camp informed her family that they could take her home. At that time, she had become mentally disoriented and could not take care of herself. Her family was told that she was only free for one month and then the labor camp would take her back. At home her family found deep scars on her head and neck, some five inches long and over an inch wide.
During her ten months at home, she never talked with anyone, not even her husband or children. Her family dared not talk to her above a whisper. Even if a small child spoke a little loudly, she would start shivering with fear. She was suffering tremendously, in such pain and anxiety, until her death on January 18, 2004.
Another female practitioner Li Jinghua, 34 years old, lives in Lizhangzi Village, Shaoduba Township, Longcheng District, Chaoyang City, Liaoning Province. On October 30, 1999, she was thrown into the Masanjia Forced Labor Camp where she was severely tortured. By 2001, she had been tortured so badly that she suffered a mental breakdown.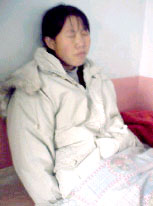 LI Jinghua after suffering a mental breakdown from torture
Textile Worker Died of Severe Torture
Wang Wenjun, 38, former employee of the Nuerhe Textile Factory, Jingzhou City, Liaoning Province, was persecuted for a long time and died in the Masanjia Forced Labor Camp on July 22, 2003.

Wang Wenjun in an official document photo
In the color photo below, Wang Wenjun is on the right with a purple head-band; on the left with the light blue head cover is her sister, Wang Wenjuan. Both of them practiced Falun Gong until the elder sister was tortured to death at Masanjia Forced Labor Camp where the younger sister is still imprisoned.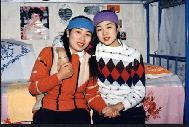 Wang Wenjun with her sister Wang Wenjuan
On October 26, 1999, Wang Wenjun and several others went to Tiananmen Square to unfurl a Falun Gong banner. They were sentenced to one year in jail. In jail, she was handcuffed and put in the same cell with death row criminals. Everyday she was forced to sit on a narrow bench for a long time. One day she was hung up by handcuffs for 9 hours. She was not released until October 26, 2000.
On January 8, 2001, Wang Wenjun went to Beijing to peacefully appeal and was arrested again. She was detained in Detention Center #1 in Jingzhou City. The guards poured cold water on her, slapped her, pulled her hair, and slammed her head against the wall. She was sent to the Masanjia Forced Labor Camp for three years and was detained in Sub-Brigade #3 of Brigade #1 in Women's Sub-Camp #2.
She was forced to do extra hard labor and was not allowed to practice the Falun Gong exercises. Her health got worse and worse from the continual abuse. Beginning in May 2002, she had stomach pain and abnormal vaginal bleeding. The prison guards still forced her to do the same hard work as the others.
In December 2002, Masanjia started a new round of brainwashing using violence. Wang Wenjun was tied up with her legs double-crossed for more than five hours and then forced to sit on a small stool for a long time. Her health had really deteriorated, and the pain in her stomach was so severe that she could not sleep. A physical exam in the hospital diagnosed her with late stage uterine cancer. On December 28, 2002, her husband, who had been forced to divorce her, took her home where she died on July 22, 2003.
Others who were tortured to death include Bai Shuzheng, Zhang Guizhi and Zhou Guirong.
Cui Yaning is in Critical Condition
Another female Falun Gong practitioner in Masanjia is Cui Yaning. Suffering from long-term torture, she was in critical condition around the Spring Festival of this year. According to reliable sources, her blood pressure and electrocardiogram did not even register at her physical checkup. However, Masanjia authorities still claimed that Cui Yaning was well and refused to release her.
Cui Yaning was detained twice for a total of more than four years. The first time in 1999 she was detained for over two years. Just two months after her release, she was thrown into jail again at the end of December 2001, where she has been ever since. Her mother said that she is 35 this year and was forced to divorce her husband because of her long-term detention. Her 8-year-old son is with his father.
A reporter called Brigade #2 of Masanjia Women's Sub-Camp #2 (Tel: 86-24-89210074 x 382). The staff person who answered the phone indicated that Cui Yaning was detained in Masanjia. The record of the phone conversation is as follows:
Reporter: Is this Sub-Brigade #5 of Brigade #2?
Answer: What's up ?
Reporter: Is Cui Yaning there?
Answer: Yes.
Reporter: Can I talk with her?
Answer: No.
Reporter: Can she walk?
Answer: Yes, she can.
Reporter: When will she be released?
Answer: When her sentence is up.
Reporter: When will her sentence be up?
Answer: You have no right to ask.
Reporter: How many others are in there?
Answer: I don't know. What is your name?
Reporter: I am Mr. Zhou. And you?
Answer: I don't need to tell you.
The woman who answered the phone at the City Public Security Bureau stated that she could not tell anything to the public.
(1) Yuan is the unit of currency in China, where the average monthly salary of an urban worker is 500 Yuan.