Taiwan: Falun Dafa Exercise Demonstration at Elementary School's Anniversary (Photos)
April 24, 2004
|
By a Falun Gong practitioner in Hualian, Taiwan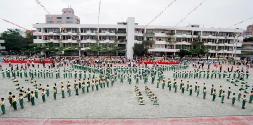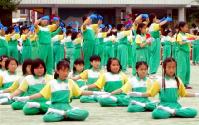 Fourth graders demonstrate the Falun Gong exercises
(Clearwisdom.net) On April 18, 2004, the Mingyi Public Elementary of Hualian City, Hualian County of Taiwan held the School Games in celebration of its 56th anniversary. The center of attention was a demonstration of the Falun Gong exercises by the students in the fourth grade. The children's wonderful demonstration was warmly received by the other students, teachers, and parents.
Mr. Li Minyu, who organized the demonstration, is an exemplary teacher in the Mingyi Public Elementary School. She said that the school was the biggest elementary school in Hualian County. Falun Dafa teaches Truthfulness-Compassion-Tolerance. If all of the children could cultivate themselves in Dafa, apply Truthfulness-Compassion-Tolerance in their lives, improve their health through practicing the exercises, and be kind and value virtue, it would benefit themselves, the school and the society. This was the reason she organized this demonstration on the school's anniversary.
Ms. Dong Shaofang, a fourth-grade teacher, said that she didn't believe in cultivation before, but she found that children were able to calm down quickly when doing the exercises, which was amazing to her. Another teacher, Ms. Zhang Qianhui, said that many parents were surprised to see the positive changes in their children and asked where they could learn Falun Gong. This demonstration was just a beginning. She and many others would learn Falun Dafa.
Chen Pinyuan, a student who participated in the demonstration, said that it was a joy for him to practice Falun Gong. He became very healthy and cheerful after he started practicing Falun Gong, and he hoped that everyone would join him. Another student, Yang Shenghua, said he was very glad to practice Falun Gong together with his classmates. They looked inward when conflicts arose and had a very harmonious environment.
A photo exhibit and video displays named "Falun Dafa around the World" and "Mystery of Self-Immolation" were also held on the same day. People saw the sharp contrast between Taiwan and mainland China when it came to Falun Gong. Children in Taiwan have the freedom of practicing Falun Dafa and improving their health and character. On the other hand, students in mainland China would be expelled from school and even illegally detained for saying, "Falun Dafa is good" or "Truthfulness-Compassion-Forbearance is good." These activities introduced Falun Dafa to more Taiwanese and exposed the brutal persecution of Falun Dafa in mainland China.
| | | |
| --- | --- | --- |
| Falun Dafa practitioners demonstrate exercises in front of their booth. | Falun Dafa photo exhibit | Falun Dafa booth |