(Clearwisdom.net) On the afternoon of April 16, 2004, the Transnational Radical Party, a permanent international non-governmental organization in the Geneva United Nations Office, held a special topic meeting regarding genocide. During the meeting, a Swiss attorney representative Ms. Boone announced a lawsuit against the Assistant Director of the Chinese Anti-Cult Association, Wang Yusheng. This was the second lawsuit prepared by Swiss Falun Gong practitioners against a Chinese government official. The first one was initiated in 2003 against the former Chinese President Jiang.
Ms. Yoko Kaneko, a Falun Gong practitioner from Japan, who had been imprisoned in China's labor camp for 18 months, said that during her detention in the labor camp, she was once forced to watch a video program about Wang Yusheng's philosophy and methods in brainwashing Falun Gong practitioners. In the video program, Wang especially advocated the use of sleep deprivation to torture Falun Gong practitioners.
Several other Falun Gong practitioners who had suffered from persecution also confirmed that Wang Yusheng was a direct participant in persecuting Falun Gong practitioners. They decided to collectively file a lawsuit against Wang and they received a positive response from the Geneva legal community. Seven attorneys agreed to accept this lawsuit filed by seven Falun Gong practitioners against Wang Yusheng.
¡£
?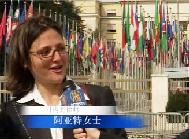 One of the plaintiffs' attorneys, Ms. Hyard.
According to Attorney Hyard, the Geneva State procurator has accepted this suit, but if the legal process lasts too long, the defendant could escape from the country upon becoming aware of the lawsuit against him, which could invalidate this lawsuit. Nevertheless, if the defendant enters Switzerland again, he will be sued again.
Attorney Berthossa said, "Both China and Switzerland signed the United Nations' Anti-Torture Treaty. Any signatory country has the responsibility to arrest and detain the related criminals."