Geneva, Switzerland: Zhang Cuiying Files a Petition against Jiang Zemin to United Nations Commission on Human Rights (Photo)
April 14, 2004
|
By Europe Falun Gong Practitioners
(Clearwisdom.net) At 3 pm on April 7, 2004, renowned Chinese Australian artist and Falun Gong practitioner Ms. Zhang Cuiying filed a Petition to the United Nations Commission on Human Rights via human rights attorney Mr. Christ Nyst. The Petition is against Jiang Zemin who initiated the persecution of Falun Gong in China. Mr. Christopher Nyst is the lawyer acting on Ms. Zhang's behalf. This is the first case of a suit being filed by an individual to United Nations on the persecution of Falun Gong practitioners in China.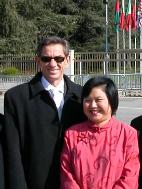 Australian human rights lawyer Mr. Chris Nyst and plaintiff Ms. Zhang Cuiying
Ms. Zhang Cuiying was imprisoned for eight months in 2000 by Jiang's regime for petitioning to Chinese government to stop persecution of Falun Gong. In prison she was tortured and abused. Later she was released under the rescue of Australian government and international media. The petition describes in detail her arrest, torture and the deprivation of her right to contact the Australian Consulate during her imprisonment. The petition states that the persecution that Ms. Zhang Cuiying suffered violated Universal Declaration on Human Rights, International Covenant on Civil and Political Rights, and United Nations Convention against Torture Victims.
On April 8, 2004, Ms. Zhang Cuiying and her attorney Mr. Nyst announed the petition in a press conference in Geneva.
In answering the question why she wants to file a Petition against Jiang Zemin to United Nations, Ms. Zhang Cuiying said, "My goal is to bring Jiang Zemin, the main culprit of the brutal persecution of hundreds of thousands of Falun Gong practitioners in China, to justice and end the catastrophe against humanity. The persecution is based on lies. The United Nations is a world organization to protect human rights and maintain peace. China is a member of the Untied Nations. Jiang's atrocities violate the United Nations charter. Therefore I want to file the petition to United Nations and let people throughout the world try him."
Ms. Zhang Cuiying said that the petition to United Nations would not affect China's image, "We meet many officials from every country in Geneva. They put forward protest on China's human rights. If China can improve its human rights this time, all governments in the world will respect Chinese people and government."
Mr. Nyst said that current international community can not accept the appalling human rights violations in China. From many aspects China is a new region full of opportunities to business trade of western countries. However, it must not be a barrier to ignore the human rights issue in China and block condemnation of human rights trampling in China.
Mr. Nyst hoped that United Nations could make a judgement on Chinese government's persecution via investigation, which may also act to stop the persecution. He hoped that United Nations could explain to Chinese government that China's human rights situation had not met the necessary standard, especially with respect to the persecution of Falun Gong.
When a reporter asked him if the petition would be successful, he said that he would come back again and again until he wins the case.
United Nations Commission on Human Rights has accepted the petition and sent copies to Working Group on Arbitrary Detention, Special Rapporteur of the Commission on Human Rights on the question of torture, Special Rapporteur on the promotion and protection of the right to freedom of opinion and expression, Special Rapporteur on freedom of belief. The working group and special rapporteurs normal procedure will likely lead them to verify the facts of the Chinese government's persecution of Falun Gong described in the petition, determine the persons responsible and offer a written reply to the petitioner.
Since Jiang's group started persecution of Falun Gong in July 1999, 939 deaths of Falun Gong practitioners due to police torture have been documented via non-governmental channels. Amnesty International and Human Rights Watch and other third parties verified the information. However, internal sources from China indicate that the number of deaths is much more. Hundreds of thousands of Falun Gong practitioners are detained, sent to forced labor camp, tortured and lived under immense pressure. As the initiator and main persecutor of the persecution, Jiang Zemin have been sued in Chicago, Spain, Taiwan, Germany, Korea, and Belgium for his crime of genocide, torture and crime against humanity.