(Clearwisdom.net) On April 11, 2004, over 4,000 Dafa practitioners gathered in Manhattan, New York and solemnly held a cultivation experience sharing conference. At about 11:30 AM, our revered Teacher came to the conference and taught the Fa for about 30 minutes.
Teacher Gives Lecture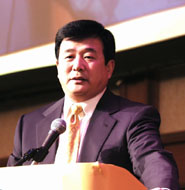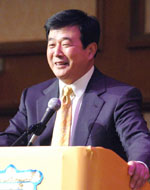 Teacher told us that four years have now passed, and the world's people have awakened more and more, and the persecution of Falun Gong has become harder and harder to maintain. Regardless of the persecutors' goals or state of mind, they will have to pay for the persecution that was forced upon Falun Gong practitioners. This repayment is most horrifying to the evil.
Teacher also told us in the lecture that even though practitioners are in difficult circumstances, they have to be good people in every instance and walk a righteous path. Now, because of the Falun Gong practitioners' contributions and efforts made under difficult circumstances, the world's people know that Falun Gong practitioners are good people. All of this is magnificent. Practitioners have become more and more mature, and there is confidence that they will be able to do better and better. This period of Fa-rectification will not last much longer, and everyone should cherish what they have done, and it's all the more reason to walk their future paths well.
At the end of the lecture, Teacher told us that today is Easter, a day for the resurrection of a god. On this great day, let the disciples' genuine godly side also be resurrected.
After the lecture, all of the practitioners stood and applauded for a long time. One practitioner presented flowers to Teacher. Teacher circled the stage once and waved to everyone. The warm applause of disciples continued until Teacher departed.
Practitioners Cultivation Experience Sharing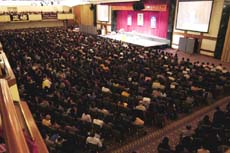 Over 4000 practitioners attended the New York Experience Sharing Conference. In addition to practitioners from North America, they also came from Europe, Australia, Japan, Singapore, Korea, Taiwan and other countries and regions. The conference site was decorated solemnly with a yellow banner that read, "New York Falun Dafa Cultivation Experience Sharing Conference" hung above the stage. Teacher's portrait was also hung above the stage and Falun emblems were on both sides. On the stage, fresh flowers were delicately arranged. On the wall of the second floor across from the stage, three individual large words in Chinese, "Truthfulness, Compassion, Forbearance," were posted. Banners reading, "Progress diligently" and "Righteous Enlightening" in both Chinese and English were posted on the wall on the second floor on both sides of the stage. Above both sides of the stage, two large projection screens made the stage easier to see.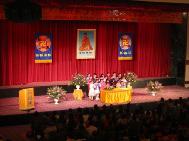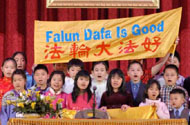 Thirteen practitioners shared their cultivation experiences during the Fa-rectification period. They talked about their experience and understanding in assisting Teacher to rectify the Fa, clarify the truth and save all beings. Everyone deeply understood that studying Dafa well assures proper truth clarification, that sending forth righteous thoughts is an essential tool, and that Teacher's compassionate care is everywhere.
A Western practitioner and a senior Chinese woman, Ms. Hong, gave a report on Chinese and Western practitioners' experience showing truth-clarification movies in New York's Chinatown since 2001. In the beginning, only about 20 viewers showed up and some people tried to disturb and intimidate them. Now, there are 200-300 viewers each time and over 800 occasionally. The viewers signed an application to increase the number of movies and many expressed their appreciation to the practitioners.
A Western practitioner from Sweden shared his experience in using his musical talent to save beings in Fa-rectification. Ms. Wang Weixing, an artist from Boston, talked about her experience of getting rid of degenerated notions of painting and conducting Dafa work well under Teacher's direction.
Taiwan Attorney Ms. Theresa Zhu gave a speech on her experience during the lawsuit against Jiang in Taiwan. Si Lei and Han Shuhui from Boston also shared their experience in participating in clarifying the truth to lawyers, collaborating among practitioners and upgrading as one body during the lawsuits.
Mr. Chen Lisheng, a 65-year-old who started practicing Falun Gong two months ago also shared his experience of getting rid of his gambling addiction and having a good relationship with his wife. Now the couple practice Falun Gong together, benefit both mentally and physically, and live a happy life.
Ms. Chen Yuxiao from California and little practitioner Dong Yijing from New York shared their experiences of explaining the facts of Falun Gong over the internet to save Chinese people.
Little practitioners from the New York Minghui School recited several of Teacher's poems in Grand Poems. After the recitation, they held high a banner reading, "Falun Dafa is Great" and spoke "Falun Dafa is Great" in five languages, including Chinese, English, Russian, and Spanish.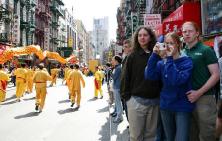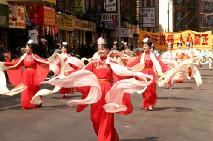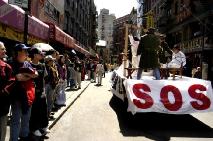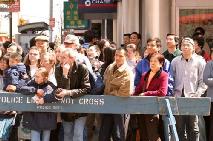 The conference concluded at 5:30 PM. Before the conclusion, videos were played to show Teacher's lecture at noon, and exciting portions of the grand parade, "The Journey of Falun Dafa" in Chinatown on April 10. The grand scenes of Dafa practitioners' righteous behaviour during adversity, peacefully resisting the persecution and clarifying the truth to the world's people moved many attendees to tears.