(Clearwisdom.net, February 2, 2004)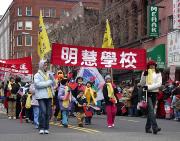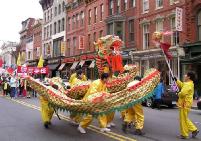 Each year, the annual Chinese New Year Parade held in Washington DC Chinatown attracts many people. Although it is colder this year, it did not affect people's interest in celebrating the new spring. Apart from the festive sound of gongs and drums, Falun Gong practitioners' performance of the golden dragon dance brought people something new and fresh. In addition, a big arch composed of red, white and blue balloons flew over the platform. That was a masterpiece made by the Minghui School students and teachers. To successfully make this balloon arch, Minghui School students and teachers arrived at the site early in the morning. Their hard work once again gave this year's parade a new look. Minghui School has volunteered several times to make a colorful balloon arch for the New Year and other celebrations. On the evening, more than 400 people from the Chinese community attended a diner party. The host especially thanked the more than 100 Falun Gong practitioners' support for the community's event, as well as Minghui School's contribution of the balloon arch. The whole audience warmly applauded.
Minghui School was also one of the Chinese schools invited to participate in the parade. Everyone wore a yellow scarf made by practitioners. Children from Chinese schools held two Minghui School flags, and joyfully walked behind the Falun Gong practitioners' dragon dance team. The Minghui School takes the principles of Truthfulness-Compassion-Tolerance as guidelines to teach its students. At present, Minghui Schools are established in many places including the U.S., Canada, Japan, Australia, Europe and Taiwan. Particularly in Taiwan, there are not only Minghui Schools, there are also Minghui kindergartens.
When the parade was about ending, and the children were asked whether they were tired and whether they would like to participate in next year's parade, a small child immediately answered, "I'd like to attend it every day." Children also wished that this year would be filled with "Truthfulness-Compassion-Tolerance."