(Clearwisdom.net)
1. General information about the orphan
Name: Du Juan
Gender: female
Age: 14

Address:
Room 403, Building 6, Gebuqian Street, Group Eight of the Third Commission, Under Gebu Police Station, Shuncheng District, Fushun City, Liaoning Province
People's Republic of China
Phone: 86-413-7105243

School Information: Class three of Grade One, No. 41 Middle School in Fushun City
School Address: Jiangjun Street, Fushun City

Current status of Du Juan:
Du Juan's grandmother Wang Yulan is taking care of her.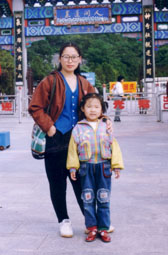 Liang Suyun and her daughter Du Juan at a young age
2. Information About Du Juan's Parents
Mother: Liang Suyun, 36 years old when she died as a result of the persecution on March 17, 2002.
Her ID number is 210403650529092. She was a former employee of the Second Corporation of the Laohutai Bureau of Mining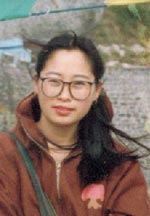 Falun Dafa practitioner Liang Suyun died as a result of persecution on March 17, 2002, She was a native of Fushun City, Liaoning Province
Details of Liang Suyun's death: Liang Suyun started to practice Falun Gong in the spring of 1998. She gave up smoking and drinking and enjoyed good health after she became a practitioner. Many diseases she had before disappeared.
In 2002, Liang went to Beijing to appeal, and was abducted and taken to the Masanjia Forced Labor Camp in Shenyang City. After Liang went on hunger strike for 17 days, the people in the forced labor camp took her to the Fushun Hospital affiliated with the Petroleum Industry to force-feed her. Although the hospital is only several minutes' drive away from her home, the police didn't notify her family members even when she passed away. One evening in March 2003, a group of police broke into her home at midnight and told her mother-in-law Wang Yulan that Liang Suyun ran away. They searched Liang's home for half of the night. Both Wang Yulan and Liang's daughter Du Juan could not sleep that night.
It was not until the next morning that Wang Yulan heard Liang Suyun was being force-fed in the hospital. Wang Yulan wanted to visit her daughter and brought noodles to the hospital. Only when she went there did she find out that Liang Suyun had passed away.
When the police saw Wang Yulan coming to visit, they immediately ordered someone to take Liang's body away. They didn't even allow Wang Yulan to take a look at her.
Wang Yulan collapsed to the ground crying and screaming. Even today, whenever she recalls the situation in the hospital, tears stream down her face.

To shirk responsibility, the police said Liang Suyun jumped to her death from a tall building.
Ms. Lu, one of Liang Suyun's fellow practitioners, had a family member working in the police station. She told us that Liang Suyun's hands were swollen as a result of being cuffed to a bed for too long. Moreover, Liang Suyun was on hunger strike for 17 days, and she was very weak. How could she get out and jump from a tall building with four police monitoring her all the time? So far, the police station has not provided any evidence or compensation for Liang Suyun's death.
Du Juan's father Du Tongliang was a former worker in the pressurized container workshop of the First Petroleum Plant in Fushun city. He passed away from a work-related accident in 1997.