Falun Dafa Practitioners from Argentina Peacefully Protest in Front of the Chinese Embassy on July 20 (Photo)
July 27, 2002 | By Dafa Practitioners from Argentina
(Clearwisdom.net) On July 20, 2002, which marked the third anniversary since Jiang's criminal regime began persecuting Falun Dafa and Dafa practitioners, practitioners living over a thousand miles away from the capital of Argentina went to Buenos Aires and gathered together with local practitioners to peacefully protest and send forth righteous thoughts in front of the Chinese Embassy.
As it was Saturday, the embassy staff was off work. As soon as we arrived there, we sent forth righteous thoughts opposite the embassy, and then we crossed the street and went to the front of the embassy to hold a banner and have a photo taken.
It happened that a police officer on duty came back. We went up to greet him with calm and righteous hearts. We told him what July 20th meant to us, about the persecution of Falun Dafa in China, and the principle of "Truthfulness-Compassion-Forbearance." When he learned that we wanted to take several pictures in front of the embassy and send forth righteous thoughts, he said, "No problem, let me make a phone call to inform my superior."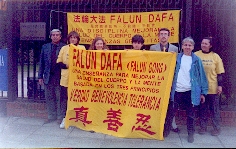 At the gate of the embassy, we changed to T-shirts imprinted with, "Falun Dafa," and then did the exercises, sent forth righteous thoughts and hung Dafa banners. Passersby and police officers all read the words on the Dafa banners.
After a while, many police cars came. One senior official was in one of the cars. We gave him the Dafa truth-clarifying literature and clarified the truth to him. After reading our information and listening to our explanation, he said politely, "It's a pity that today is Saturday, and nobody will accept your letter." We said we would come again at another time. We also told him that we would send more truth-clarifying materials to his office.
Because of historical reasons, local people do not want to confront the police. This contact with the police made some practitioners who had the attachment of fear witness the mighty power of Dafa and righteous thoughts, and realize that "Truthfulness-Compassion-Forbearance" is able to awaken people's conscience, eliminate the evil and stop the evil from polluting the minds of people who are waiting to obtain the Fa. Some practitioners who had not participated in such Fa-rectification activities before felt that this activity changed their minds, and they wanted to join in sending forth righteous thoughts at set times in front of the embassy and distributing Dafa truth-clarifying leaflets.
The practitioners shared their experiences and insights after the activity and all felt that they improved a lot. New practitioners who just obtained the Fa six months earlier also gained a deeper understanding of the significance of Fa-rectification. Everyone realized that we should study the Fa diligently, and keep up with the Fa-rectification process.