A memorial service was held at a Sydney funeral home for Mr Chen Chengyong who died in the brutal persecution of Falun Gong. More than 60 friends, relatives, righteous Australian supporters of Falun Dafa, and many Falun Dafa practitioners from Sydney attended the service.
On the white table was the photo of the late Mr Chen Chengyong together with the urn bearing his ashes. On the wall was a light yellow cloth with the following striking letters: "Memorial Service for Mr Chen Chengyong". The bouquet of elegant and pure flowers on the table consisted of oriental lilies, chrysanthemums and gladioli. The atmosphere in the hall was dignified and solemn. Two white candles lit up the banner which read: "Noble spirit and loyal soul, a ceremony in remembrance of the spirit of the brave departed, relating the truth with tears like the candles; we mourn the passing of a fellow practitioner into the vault of heaven."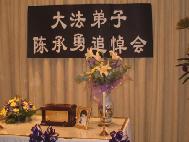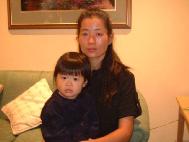 The widow of Mr Chen Chengyong, Australian citizen Dai Zhizhen in her memorial speech, cordially and sincerely thanked the Australian government, government officials, the news media, and friends, who, during a very difficult time gave her and her daughter valuable assistance and support.
Dai Zhizhen recounted the process in which her husband was mistreated and murdered by the Jiang regime: "My husband, Chen Chengyong, was only 34 years old when he passed away in China because of the Jiang regime's persecution of Falun Gong. Chengyong's elder sister was sent to the "brainwashing class" after she identified the corpse. She was illegally sentenced to a labour camp for two years; Chengyong's father passed away after suffering a fatal heart attack because of the tragic death of his son and jailing of his daughter. In three months, an extremely happy family of three was torn asunder! Dear Chengyong, you left us under such miserable circumstances. The report of July last year is floating before my eyes: 'Recent news indicated that Chen Chengyong had passed away in a shed on the outskirts of Guangzhou city. When his sister identified the body, the corpse was already decomposing and was exuding odours. It was estimated that he had been dead for quite sometime before the family was notified.' From the death of every practitioner in China as a result of assaults, electric baton shocks and so on, I can see the image of how you died. I cannot imagine the pain you suffered during the torment you were placed under. Can you know how sorrowful I am at present?"
Dai Zhizhen expressed her profound grief and will deeply cherish the memory of Chen Chengyong. She is proud of Chen's determination to uphold the principle of "Zhen Shan Ren" (Truth, Compassion, Forbearance).
Finally, Dai Zhizhen indicated that her family is only one of countless families in China. But those countless families do not have the right to express themselves. Tragedies are occurring every moment in China. She earnestly beseeches the government of Australia and all kind-hearted people to unite and curb the wanton and cruel killings. Mr Thomas Jordan, executive director of Alliance of Associations of Australia, a non-government organization, in his memorial speech said: "The Alliance of Associations of Australia was established in 1920. The responsibility of the Association is to let the world know that everyone has the obligation to care for others. The Australian Association and the World Alliance of Associations do comprehend the principles of Falun Dafa. But we do not understand why China has not ratified the convention they have signed with the United Nations. Falun Dafa is not a threat to Australia and likewise is not a threat to the government of China. This is a basic citizen's demand that their governments have to abide by. We support you. We will utilise our resources to assist you to let the world know that Falun Gong practitioners are not only suffering from the persecution of their belief, but from the deprivation of their most basic human rights. This basic human right is the foundation of the society with beliefs. What is happening today has made me realise that the loss of a person or a child losing his father, is a great tragedy. We must now let the world understand what is peace, what is compassion, what is forbearance as they are all in concordance to humanity and are the principles of human rights. They also coincide with the principles of justice and righteousness. These are what we can assist you with." Mr Thomas Jordan further stressed: "I am not a Falun Gong practitioner, but I do not require any belief to understand what is the principles of humanity. Without any principles of humanity there will be no progress and development. I feel utterly sorrowful that in this twenty-first century human beings have not learned to love and respect their fellow beings. In regard to this tragedy, I express my deepest sympathy and regret. I did not know of what had occurred, otherwise I would have, perhaps, been able to give a helping hand."
A few practitioners in their memorial speeches indicated: "A family tragedy like that of Dai Zhizhen is happening every moment in China! Many families are broken up with the children not knowing where their parents are or the parents not knowing where their children are. The persecution and killings in China must stop immediately! The tragedy cannot be allowed to continue! Righteousness will eventually triumph over evil!" Australian Falun Dafa contact person Wei Xibin said: "This is the first instance a government outside China has assisted to arrange the transportation of the ashes of the deceased to another country. This is a silent condemnation of the Jiang regime's persecution of Falun Gong practitioners. I believe there will be more and more governments, social organizations and groups that will step forward to condemn this persecution."