Falun Dafa Practitioners from Washington DC Gather in front of the Chinese Embassy to again strongly Demand the Immediate Release of Teng Chunyan
November 23, 2001
Before the eve of Thanksgiving Holiday, in the afternoon on November 21, 2001, Falun Dafa practitioners from Washington DC and vicinity gathered again in front of the Chinese Embassy to strongly demand the release of Teng Chunyan, an American permanent resident from New York who has been illegally imprisoned in China for one and a half years.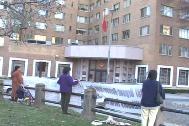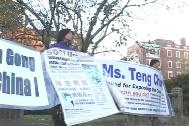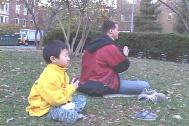 On this day last year, doctor Teng was already imprisoned in China for exposing the evil doings of Jiang Zemin's regime and supporting fellow practitioners in China. As of now, she has not been released. For over one year, her relatives overseas have not obtained any news about her. However, recently the Jiang Zemin-controlled media broadcast stories about her. Based on the prevailing fabricated style of the controlled media, we can only wonder how much of her blood and tears were shed to produce this doubtful report.
When passers-by and nearby residents learned of the matter and saw the big photos of western practitioners being beaten and arrested in Tiananmen Square published in today's Washington Post, they could neither understand nor accept the actions of Jiang Zemin's regime. They also expressed sincere sympathy to those Falun Dafa practitioners being tortured in China.